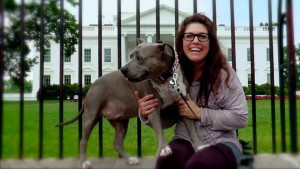 "Stand Up For Pits" was founded by an awesome person Rebecca Corry, she's an actress and comedian, I remember when she first told me about her little ray of sunshine "Angel" and what it brought to her life. She worked diligently with animal shelters, government officials and local organizations in Los Angeles to change the perception of pitbulls. She invested her own time, resources and money to build what is now one of the foremost leaders in Pibble Rescues and awareness. I have to say that I'm very proud of what she's done and I believe that more people should get involved nationwide and even internationally. Show your support for this great organization in the ways that you can." Stated Louis Velazquez Host of the UCW Radio Show.
Stand Up For Pits events are very special experiences. Saving lives through laughter is truly about as good as it gets. You don't have to be a Pibble lover or proud parent to one or several to come laugh and make a difference. Many people attend these events don't even have pets but understand that animal abuse and discrimination effects us all and want to be a part of ending it.
Stand Up For Pits has been selling out cities around the country for 6 years and we are honored to support hard working pit bull "type" dog nonprofits around the country doing all they can to educate, advocate and save lives. Stand Up For Pits events include incredible silent auctions, merchandise for sale, Pibble adoptions (which have placed many dogs in loving homes) the SUFP Donation Drive-which last year raised over $25,000 worth of supplies helping countless shelter animals in need.
The hosts, performers and experience lingers long after the event is over. Past performers include; Adam Sandler, Rosie O'Donnell, Janeane Garofalo, Tig Notaro, Jeff Garlin, Bill Burr, Whitney Cummings, David Spade and many many more. The real crowd pleaser…who the people really come to see…is the velvety queen herself, our Angel. People line up with their dollar in hand waiting to get to meet and kiss the magical in the kissing booth she bas made so famous.
Watching the thousands of people around the country who love her and have been inspired by what her inherent goodness has created is truly inspiring and a reminder that good people far outweigh the bad.
The energy and vibe of the entire event from beginning to end is something extremely special and we are so proud to share these experiences with our many supporters nationwide and to witness the level of passion these people have to making much needed change in our society. The abuse and discrimination against pit bull "type" dogs is intolerable, horrific and dark but on these nights we gather as one voice for the voiceless and celebrate our inherently good dogs through laughter and positivity.
We are SO proud of Stand Up For Pits and the impact it continues to have. Currently Stand Up For Pits is now in 8 cities and is growing every year. If we don't come your city yet, there is still plenty you can do to support. We encourage and believe in positive education and empowering others to DO SOMETHING. We want people to continue to be heard and take action on their own. Rescues and foundations are often overcrowded, overwhelmed and underfunded so it's up to everyone to do their part. Donate, volunteer, foster, adopt, educate…any and all efforts matter and if everyone does their part more lives will be saved.
People need to truly understand they have the power to inspire and make change and those without pets must also remain diligent and willing to help. Factually, people who abuse animals will likely and most often times DO go on to commit crimes against humans. That means you, your children, or loved ones. What is happening to pit bull "type" dogs is a direct reflection of a very broken society and if we want to live in safe and humane communities for humans and pets then we all must do something.
We thank all of you who attend our events, share our info, donate, purchase our merch and volunteer at our events around the country. We love you and proudly stand alongside you as we do all we can to eradicate hate and ignorance against the innocent and voiceless. We are their voice.
To learn more go to standupforpits.us.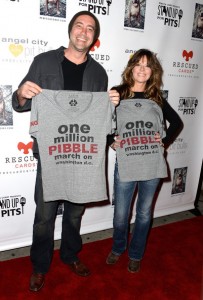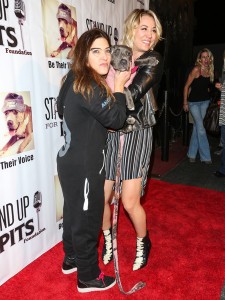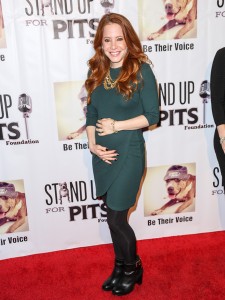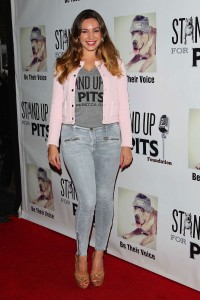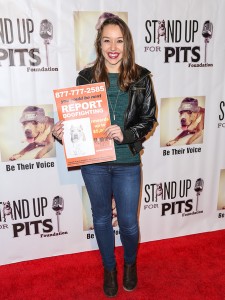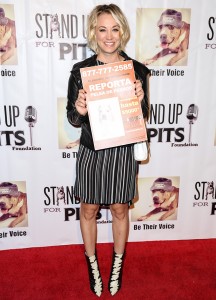 Links:
http://twitter.com/therebeccacorry
http://instagram.com/rebeccacorry