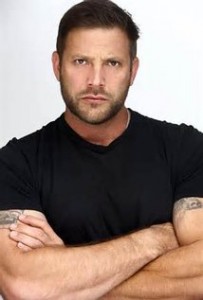 Interview with actor, martial artist and fitness enthusiast Sasha Mitchell, he speaks with UCW Radio Show Host Louis Velazquez at the Tropicana Hotel and Casino in Atlantic City, NJ.
He touches on his latest projects and his reentry into the Hollywood scene and more.
A little about Sasha Mitchell:
Audiences know Cody as a model, actor, and kick-boxer. Prior to acting, Sasha was a model for Bruce Weber's fashion photography and Calvin Klein and made his screen debut in 1986's Pleasure and burst onto screens as Ruggieri in the action thriller Death Before Dishonor (1987).
Three years later, he joined the soap opera Dallas as James Beaumont, the illegitimate son of J.R. Ewing (Patrick Duffy). Immediately following his exit on Dallas in 1991, Sasha was chosen to be Jean-Claude van Damme's replacement in the hit movie installments Kickboxer 2:
The Road Back as the lead character David Sloan. The movie was so popular that Sasha re-prised the role in Kickboxer 3: The Art of War (1992) and Kickboxer 4 (1994). In that same year, Sasha re-teamed with Dallas co-star Patrick Duffy as Duffy's nephew, Cody Lambert on the television show Step By Step, which he played for 7 years and was in 114 episodes. After the show's cancellation, Sasha went on to guest appear in television shows such as ER, JAG, NYPD Blue and films such as Gangland, L.A. Confidential, Abelar: Tales of an Ancient Empire, and Cyborg Nemesis. Sasha can be seen next in the upcoming films: City of Blood and The Kickboxer: Empire of the Dead. In addition, Sasha loves to cook, is a certified welder, and speaks fluent Spanish.