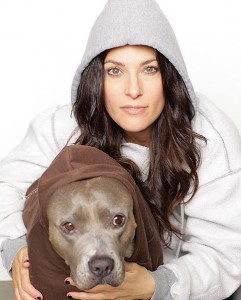 /UCW/ Los Angeles has a new Pitbull sheriff in town and that is Rebecca Corry. But with great power comes great responsibility and with great responsibility comes expenses.
So all of you animal lovers take the time to go to www.standupforpits.us and get some merchandise and support the cause. We have to give a voice for the voiceless and be the guardians of those that need to be protected, animals and people alike.
Rebecca Corry and her efforts with Stand Up For Pits Foundation has become the pinnacle of giving back in the way that you can for Pitbulls and animals alike. She does it through comedy and it has grown from a local effort to a regional and national effort.
Follow Rebecca on Twitter and keep tuned to the Pibble Mission and all the good that she's doing.
We will be doing many more features for Stand Up For Pits as we support the cause, I personally support the cause and so should you.
The Stand Up For Pits Foundation store opens this FRIDAY at standupforpits.us! pic.twitter.com/LqMfufqg3O

— Rebecca Corry (@TheRebeccaCorry) February 24, 2016