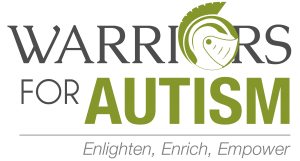 /UCW/ "Warriors for Autism is a selfless act of giving back from two people that have had so much personal adversity,  this organization has been self funded and has been making a difference for families with children who have autism, helping them integrate a system to better their children. Giving them resources to assist them with getting the right things in place for their children with special needs. I do urge anyone who has a child or family member with autism to not only donate and show your support but get involved. Visit their new facility and see how they are making a difference. I'm humbled to not only be friends with Olando and Deena Rivera but also to see them build this organization from the ground up, while dealing with personal battles of their own. People Making A Difference!" Stated Louis Velazquez, Host of the UCW Radio Show.
Anthony's Story:
Anthony lived the life of a typical little boy – active, healthy, playful and loving – up until about 20 months of age. He received his 18 month vaccines a bit late and the same day, after abruptly seizing, Anthony's speech came to a halt. He stopped eating most foods and started to have uncontrollable tantrums, injuring himself at times. He was distant and unresponsive towards his family but began to completely obsess over objects and order. At 2 years old, Anthony was diagnosed with Pervasive Development Disorder (PDD-nos), one of the many conditions on the Autism Spectrum.
Today, at 14 years old Anthony has made so much progress he almost seems like a different person. He is now speaking in sentences, attends mainstream classes at a school for varying exceptionalities, has an amazing and funny personality with a healthy appetite and enjoys having time with his family! Anthony has received various types of therapy over the years including HBOT and had an Autism Service Dog, named Catcher, specially trained to fit his specific needs (wandering and companionship). There is still so much more that he needs, that he will always need, but together we can make a difference…for my child, for your child and for each of the 1 in 50 children affected today.
Feb 27: 3rd Annual Creating A Plan for the Future Workshop, 8:30am – 1pm, Tampa, FL. A Free Workshop Focused on… https://t.co/LlOPM1MIOa

— Warriors For Autism™ (@Deena_Rivera) February 25, 2016
The Warrior Fitness & Sensory Center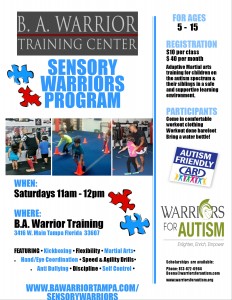 In the spring of 2016, we plan to open The Warrior Fitness & Sensory Center in Tampa, Florida. It will be a place where children of all ages can experience our fun & fitness concepts in a sensory environment like no other available in Tampa. We need your help raising the funds to get it completed!
Children on the spectrum have very limited activities they can participate in where they are truly comfortable. The current obesity rates are for these children are skyrocketing! We at Warriors For Autism are trying to help combat both aspects of this problem by proposing a facility that will address two of these issues facing families in our community today.
Warriors For Autism is non profit organization based out of Tampa FL, dedicated to enlighten, enrich and empower families on the autism spectrum. We have been running successful programs for children on the autism spectrum since our inception in 2010. We teamed up with B.A. Warrior Training in 2013 to start the Sensory Warrior program, a sensory friendly, adaptive martial arts program for children on the spectrum and their siblings. It has been going so well that we are now looking to expand in a big way but we need your help!
Here is a preliminary layout of the new facility featuring zip line, foam pit, separate "Light Lounge" sensory room and activity center.
https://www.gofundme.com/warriorsensory
"Autism can be a complex disorder. But, it is not hopeless. With the help of good intervention and services, individuals with autism can make excellent progress and achieve a higher quality of life."
– Center for Autism Related Disorders, USF
Get in touch with Warriors for Autism:
Deena Rivera
[email protected]
3416 W. Main Street,
Tampa FL 33607
http://warriorsforautism.org/
COMMUNITY PARTNERS, They are supporting Warriors for Autism so the local community should get behind them:
www.bawarriortampa.com – 3416 W. Main Street Tampa FL 33607
www.horsepowerforkids.com – 8005 Racetrack Road, Tampa, FL
www.southerntireco.com – 3218 S. Macdill Avenue, Tampa, FL
www.dncsupplements.com – 4115 Gunn Hwy, Tampa Fl
www.gatorfreds.com – 5360 Ehlich Road, Tampa Fl
www.activeet.com – 2111 N. Albany Avenue, Tampa Fl
www.manecenter.com – 1602 W Sligh Avenue, Tampa Fl,
www.broachschool.com –  10502 N. Dale Mabry Hwy, Tampa FL
www.bwarrior.com – 230 East 53rd Street, NYC, NY
If you are interested in becoming a community partner please contact them directly directly .