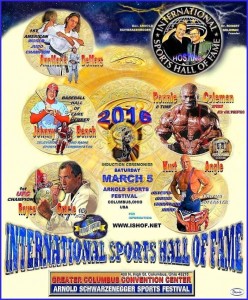 /UCW/ An overview from Guinness Book of World Records holder and one of the foremost authorities on health and sports medicine, Dr. Robert Goldman.
World Largest Sports Festival 4 days Away-Arnold Schwarzenegger Sports Festival:
Action packed weekend for me coming up March 3-6 for the Arnold Schwarzenegger Sports Festival hosting over 200,000 attendees and over 20,000 athletes competing in over 70 sports.
Very involved for decades and sponsor the International Sports Hall of Fame (www.SportsHOF.org) event held annually, USA Arm Wrestling World Championship, After School All-Stars-Arnold's charity event, & 1st Annual Arnold Statue Photo Contest. In the past also sponsored the Strongmen Highland Games, The Arnold Sports Film Festival, America's Next Great Trainer (ANGT) competition, and donation of the 800 pound Arnold bronze statue donated to the City of Columbus. Working with my mentor and life long friend Arnold Schwarzenegger for decades, has been one of the greatest honors and pleasures. The world's largest sports festival is a must see life event for everyone!!
Inductees for the International Sports Hall of Fame class of 2016 include Legendary Baseball player Johnny Bench, Legendary UFC Champion Royce Gracie, 1st American Judo Champion AnnMaria DeMars, Bodybuilding 8 time Mr Olympia Ronnie Coleman, Actor and Karate Champion Dolph Lundgren and Olympic Gold Medalist and WWE  Legend Kurt Angle.
"This is one of the greatest gatherings in total sports, The Arnold Sports Festival is one of the few events that you can run into a bodybuilding legend and turn around and run into a martial arts legend and turn around again running into a Hollywood superstar. The bonus is the International Sports Hall of Fame, Dr Robert Goldman has put together such an epic inductee list each year that you will not find such a gathering of elite athletes in one room. This is the top of the hill in true all around sports halls of fame." Stated Louis Velazquez, host of the UCW Radio Show.
http://arnoldsportsfestival.com/?full_website

Dr Robert Goldman: www.DrBobGoldman.com
World Chairman-IFBB & NPC International Medical Commissions
Co-Founder & Chairman of the Board-A4M
Founder & Chairman-International Sports Hall of Fame
Co-Founder & Chairman-World Academy of Anti-Aging Medicine
President Emeritus-National Academy of Sports Medicine (NASM)
Chairman-U.S. Sports Academy's Board of Visitors