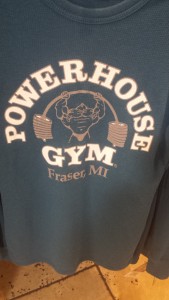 /UCW/ – Being on the road brings its own sets of challenges when you are not just training but living a healthy lifestyle. Going from city to city does allow me to train at different gyms and get to know a little more about what they offer and how I feel it would benefit those looking to get fit. Not all gyms are for all people, lets get that straight, you can't have a bodybuilder training at a gym like Planet Fitness as its just not suited for that type of training.
The same way you can't have a crossfitter training at a UFC Gym, it just doesn't fit the bill for them. With that said we are starting a new series where I will be training at different gyms around the country over the course of 2016 and giving my unbiased opinion of them. If I give it my blessing its for a reason and if I don't again its for a reason.
Now I was recently in Michigan and had the opportunity to train at a couple of really good places that I would highly recommend for the beginner, intermediate and even professional. I've been training for over 30 years, from gymnastic, martial arts to bodybuilding and powerlifting, so I know a thing or two or maybe three of what environment can work across the training levels.
So lets start at M Fitness Club which is located at 5742 15 Mile Rd, Sterling Heights, MI 48310. Now this is a totally private gym that offers one on one personal training. Honestly I didn't know what to expect when I walked in the door, this was a last minute substitution as I was denied a courtesy for the day at Powerhouse Gym in Troy, Michigan by a guy named Rocky, who apparently didn't care about what the corporate office requested. So wasting my time traveling to Troy I had to trek back to Sterling Heights where I was given the courtesy at M Fitness Club and honestly I was really impressed.
They had heavy duty squat racks with T-Bar attachments, rope attachments, gymnastic rings, a wide array of cardio equipment, the weighted machines were just awesome. The sported Star Trac machines, which I normally don't use but they have some great equipment, probably better than Hammer Strength, they had Rogue Fitness powerlifting plates, Iron Grip dumbbells going to the 150 pd level and the place was clean clean clean. I was afraid to make a sound but the environment was really solid.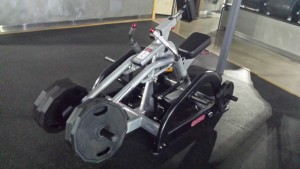 I had the chance to witness a trainer in action, his name was Alan and as opposed to trainers at gyms like LA Fitness or Retro Fitness, these guys don't chitter chatter with their clients about their day, they give them everything they need to build a better them. The clients were getting that attention they pay for in an environment where they can benefit the most. I'm not sure about the rates but I'm sure its in line with the other local gyms but having a facility open 24/7 is the biggest plus.
So I would recommend this gym to anyone looking for a trainer or a solid 24 hour gym in Sterling Heights, Michigan. Find out more about them by going to their website at http://mfitclub.com
Now the next gym that I had the opportunity to train at was in Fraser, Michigan. It was Powerhouse Gym, now this was a really solid gym, Marina at the front desk was great, such an awesome person, Matt the owner was really nice and gave me courtesy to train for the day at the request of Powerhouse Corporate. Let me just say that the Powerhouse Gym franchise is awesome just the gym in Troy, Michigan refused to be nice that day, booo hooo. Anyhow Powerhouse Gym in Fraser sports a wide array of cardio equipment, dumbbells didn't go up to 150pds but for the clientele in this particular gym it works. Its one of those gyms that you can be a beginner and train without being judged, or be out of shape and find a good trainer in house to help you reach your goals without feeling uncomfortable. Matt, the owner, made this location very user friendly, I love the fact that they have a Silver Sneakers type of deal with classes, this is truly a community driven facility.
There are other gyms not far away like LA Fitness, who by the way also gave me an issue at 5am in the morning because apparently a sales rep needed to give me the sales rap before they would allow me to use it for the day. It was pretty annoying actually, I trained at LA Fitness clubs all over the USA and this particular one in Troy had to give me an issue, go figure. My point with the gyms nearby, Powerhouse in Fraser is affordable, clean, comfortable and I would recommend just giving them a try if you live in the area. They are located at 32860 Hayes Rd, Fraser, MI 48026 and you can find out more about them at their website https://powerhousegym.com/fraser
I was only in town for three days and the one day of nonsense with Powerhouse in Troy, Michigan and LA Fitness in Troy, Michigan, killed my morning. I wonder if there is something up with the city of Troy, maybe thats it.
I want to thank Powerhouse Gym Corporate for being so great and trying to align that courtesy for the day for me across their franchisees, this allowed me to experience a great gym in Powerhouse in Fraser, Michigan so thanks to Matt for that. And lastly let me thank the owners a M Fitness Club for extending that courtesy for a wonderful gym, I had a great back workout when I trained there.
You can find all of my comments and pictures of my training at these two great gyms on Twitter and Instagram.
This is going to be a continuously series and since I will be in Michigan again soon, I do welcome Powerhouse Gym in Troy to extend that courtesy so that I can give a true assessment of the location and lets hope this was just a one off incident, wouldn't want that to be the norm.
Louis Velazquez
Host of the UCW Radio Show
https://twitter.com/louisvelazquez/status/706789860594622464
https://www.instagram.com/p/BC0qpKILWLi/?taken-by=louisvelazquez
https://www.instagram.com/p/BCp5ldcrWE7/?taken-by=louisvelazquez
https://www.facebook.com/Powerhouse-Gym-Fraser-190409427638905/
https://www.facebook.com/MFitnessClub
https://www.instagram.com/p/BCG2Mz1MsqS/?taken-by=mfitclub