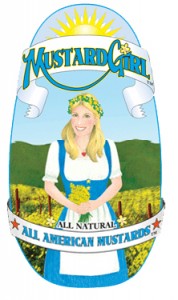 /UCW/ CHICAGO, IL – ​​​​​​​Mustard Girl All American Mustards, Inc., ("Mustard Girl") makes its debut in all Target stores nationwide on March 17. The launch of Mustard GirlTM reflects Target's commitment to promote unique, all-American, healthy brands on a national level.
"I'm absolutely thrilled to have Mustard Girl on the shelves in Target stores nationwide. I think shoppers from coast to coast really value quality, all-American products, so I'm glad that Target shoppers will be able to give my mustards a squeeze and experience Mustard Girl sunshine," said Jennifer Connor, Owner and President of Mustard Girl.
Target will carry the full line of Mustard Girl, which includes Sweet N' Spicey Honey Mustard, Stoneground Deli, Sweet N' Fancy Yellow, American Dijon and Zesty Horseradish. All varieties are all-natural, gluten-free, fat-free, low in sodium, Kosher, and contain no preservatives and no high fructose corn syrup.
The mustards make sandwiches come to life, but they can also be used as marinades or for dipping. With healthy ingredients such a turmeric, Mustard Girl Mustards make for a healthy choice in the condiment aisle.
With fresh, bold flavors, one taste is enough to realize this is not your typical bottled mustard. Mustard Girl owner and President, Jennifer Connor describes her mustard's as"spreadable sunshine." Connor believes Mustard Girl is also good for the heart, taste buds, and soul.
For more information, visit www.mustardgirl.com.
Press inquiries contact: [email protected]
St.Patricks Day festivities are just around the corner! For those looking for a traditional… https://t.co/oaiuJTVygz

— Mustard Girl Mustard (@mustardgirlUSA) March 8, 2016