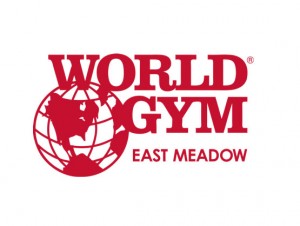 /UCW/ – In the continuing mission to highlight some of the best kept fitness secrets worldwide, today I want to highlight a fitness center that is so unassuming until you walk to the front desk and there is that WOW moment.
World Gym, which is located in East Meadow, Long Island, is probably one of the most unassuming facilities that I've trained at in a number of years. I've trained all over the world and when I look at a gym from the outside thinking one thing only to walk it and encounter something completely different, well I need to talk about it.
Beyond the actual facility one thing that I pay close attention to when training at a gym is the staff, are they courteous?, helpful?, engaging with members? and informative?. Well for those locals in East Meadow they have it all in one place, the staff at World Gym is beyond courteous, they greet you and make you feel welcome, even at 5am.
The staff engages with the members, this is so important as it is service so that customer service part of it becomes critical not only for membership renewals but the spreading of the word to the community. I've stood at the counter just talking to the staff and observing how they operate, from making small talk with members to preparing some of the most amazing smoothies at the Barbell Café, they have impressed me with how they represent the World Gym brand. One of their staffers, Stacey, has exemplified how a gym staff should function efficiently and she undoubtedly sets an example for the other staff members.
Now lets get to the facility itself, one of the great things about this facility is that they have an entire upper level dedicated solely to alternative training. What I mean by alternative training is that it has nothing to do with weightlifting. They have a couple of battle ropes to get out that aggression, they have a punching bag, TRX suspension ropes, on of my favorites the weight sled, plyometric equipment, rowing machines, medicine balls for the release of more pounding aggression, ab benches and my second favorite kettle bells.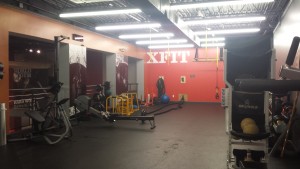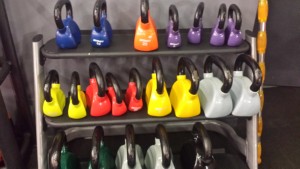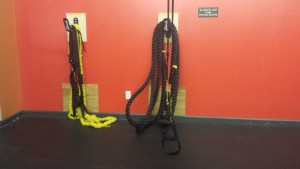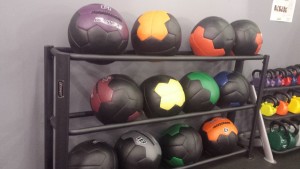 You would not know all of this is upstairs unless you ventured up there, but once you do then you will find yourself upstairs more often than not.
On the floor they offer dumbbells up to I believe 125 pounds, the racks are full and trust me if you find dumbbells laying around its rare, the place is clean in more ways than one. The gym boast two power squat racks, a high end trap bar which you can load from the rack, decent flat and incline benches, various weight machines suitable for any body part and a full cardio section.
There is only one cable crossover machine but it features 2 seated rows, two triceps pressdown and lat pulldown machines, so its more than enough to cater to the members.
Now let me walk you towards the locker rooms, first you will see a few enclosed class rooms for the various types of classes they offer in their "Group X" training such as "Uptown Express", "Below the Belt", "Body Blast", "Total Body", Yoga, Pilates, "Cardio Sculpt", "Spotlight Cycle", oh yes they have Insanity training and this is probably the best "Silver Sneakers" getting the elderly back in motion, gotta love it.
The locker rooms themselves are immaculate, honestly I haven't seen any gyms with locker rooms and bathrooms as clean as at World Gym East Meadow, that's a BIG plus. They have a steam room in the locker room, although its small and not many use it , well at the time I train anyhow, so it was a good top off to my workouts.
The owners are the type of owners you want at a fitness center, they are on top of everything and make their members feel very welcome and comfortable. In particular, Frank Camarano, has shown his true desire to make World Gym East Meadow the go to fitness center for the community. They've also created a little known secret that I am blowing out of the water today and that's the "Barbell Café" , they produce some of the best veggie, fruit and protein smoothies that I've had in a long while, they give you the ingredients and tell you what its for. The best part about this smoothie bar is that its OPEN to the public and not just for gym members, so if you're in East Meadow and want a healthy smoothie then anyone can just walk in, order it and be on their way or drink it at the bar. There are not many if any places that offer what they offer as a perk to the general public, so I would think East Meadow residents may want to take advantage of it after reading this article.
On the personal training front, I've only observed one trainer in action but to be fair when I have trained here its normally at 5am so I wouldn't expect too many trainers to be present but from what I've seen they have a competent personal training staff who focus on a system called "Lose it Now" , basically it's a you set the goal and they help you to achieve it deal.
Do you have little ones to babysit well that's not a problem either as there is a pay as you go OR annual members for babysitting services, from 3 months olds and up. That's the money shot for those new parents who find it hard to get away to train for an hour or two.
And lastly, one of the new addition, which I have not had the chance to use yet, is the Hydromassage machine, from what I hear it's a great experience and as opposed to having a pay as you go situation this can be an add on to your membership package. I have to add that their membership rates are beyond reasonable, when you have fitness centers like LA Fitness, Lifetime Fitness and others charging anywhere from $30 to $100 per month, this little gem in the heart of East Meadow, Long Island is cost effective and provides what I feel any beginner, intermediate and even some advanced fitness crazies would need to achieve what they want to achieve.
So for those East Meadow residents that have been looking for a gym that is comfortable, functional, clean and for some within walking distances then go give them a try, get a 7 day pass and see if its for you and let us know what you think.
I want to thank World Gym East Meadow for the courtesy of allowing me to experience the gym as it should be, good people, great gym.
You can find all of my comments and pictures of my training at this great gym on my Twitter and Instagram handles.
– Louis Velazquez, Host of the UCW Radio Show
To find out more about World Gym East Meadow go to https://www.worldgym.com/eastmeadow/
Located at 1940 Hempstead Turnpike in East Meadow, Long Island, give them a call them at 516-832-8444
Check them out on social media:
http://www.twitter.com/wgeastmeadow