/UCW/ CINCINNATI , OH – The Kroger family of convenience store brands is giving customers even more to look forward to, no matter where this summer's adventures may take them. The favorite American convenience store destinations, Kwik Shop, Loaf 'N Jug, Tom Thumb and Turkey Hill, are teaming up for It's Your Great American Summer- their largest loyalty promotion to date.
Beginning Thursday, June 16th, customers can use their rewards cards to be automatically entered into the It's Your Great American Summer contest by purchasing any item throughout out the stores*. Popular brands and products such as Coca-Cola, Pepsi, Nestle, General Mills, Red Bull and other favorites are able to make customers winners this summer! Prizes include free gas for an entire year, vacation packages, Go Pro's and $100,000 in other exciting prizes.
"Our convenience stores have long been a favorite stop for customers looking to refresh and refuel with all of their favorite road trip essentials." Kroger Convenience Store Promotions Coordinator Shannon Powers said. "The best part is that customers can enter the It's Your Great American Summer giveaway just by shopping their favorite brands. There will be multiple winners each and every day. It doesn't get any easier than this!"
This is the first time that all four convenience store banners have jointly participated in such a large scale promotion to date. It's Your Great American Summer begins Thursday, June 16th and ends Wednesday, August 10, 2016. Participating brands may vary by store and are subject to change. *Exclusions apply on tobacco, alcohol (valid if FL only), pre-paid cell phone cards, milk and lottery tickets. No purchase necessary. Official rules and additional details can be accessed on each of the convenience store websites:
http://www.kwikshop/greatamericansummer
http://www.tomt.com/greatamericansummer
http://www.turkeyhillstores.com/greatamericansummer
http://www.loafnjug.com/greatamericansummer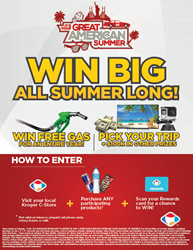 About the Kroger family of Convenience Store Brands
The Kroger family of convenience stores are regional favorite brands associated with the Kroger Large Format Grocery Stores and Kroger Fuel Centers. These banners include: Kwik Shop, Loaf 'N Jug, Tom Thumb and Turkey Hill and are concentrated in a number of select markets throughout the country. From Colorado to PA, Ohio to Florida, all sharing the same fuel rewards program and loyalty card offerings overseen at Kroger headquarters in Cincinnati.
In 2016, Kroger developed a unified rewards program encompassing its Convenience store banners to offer rewards card incentive promotions a, for greater customer benefit. Through this collaboration, customers may use their existing rewards cards to earn fuel points at reciprocal brands while traveling.
Contact:
Allison Schroeder
Pomme Communications
(513) 331-0957