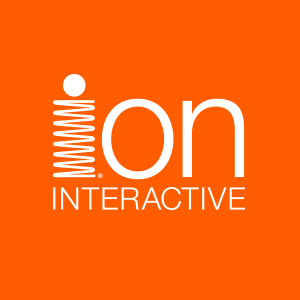 /UCW/ BOCA RATON, FL – ion interactive, the leading provider of interactive content solutions, announced and shipped new ion platform capabilities to create and launch interactive versions of Vimeo, Brightcove, Ooyala and HTML5 videos. These new capabilities make it possible for participants in interactive content to create their own, highly relevant story by making choices within videos. By encouraging active participation rather than passive viewership, ion interactive increases engagement in its customers' content.
ion interactive's CEO, Justin Talerico said, "We're thrilled to bring the same engagement and relevance to video that we've been bringing to other forms of content. We've seen hundreds of customers' results improve when they embrace interactivity. Now that we can do that with Vimeo, Brightcove, Ooyala and HTML5 videos, we've got a 360° interactive experience solution."
Recent Content Marketing Institute research supports Talerico's assertion. In CMI's May 2016 Peak Experiences study, they found that the 53% of content marketers using interactive content had some compelling reasons why. For instance, 81% of them agreed that interactive content is more effective at getting attention; 79% said it enhances retention of brand messaging; and 79% said it has reusable value resulting in repeat visitors and multiple exposures. These numbers support the most telling stat in the study: 75% of content marketers plan to use more interactive content in 2016.
The two-way dialogue that takes place in interactive experiences comes to video as options or choices that dictate the future story line. By becoming an active participant and affecting the outcome, people are more engaged and involved–leading to the enhanced retention and multiple exposures that CMI found in their research.
Talerico said with a laugh, "We created a fun example that was written and shot explicitly to be interactive. Most interactive videos are actually repurposed passive videos linked together by the interactive interface–and that's fine. But there is something cool about being able to watch a member of our account development team do a cartwheel."
Watch the cartwheel (it's actually a double).
ion's platform ties directly into the APIs of the video delivery networks making the new interactive capabilities self-contained within ion. In addition to the new interactive features, ion's platform continues to support a wide range of player and playback features across Vimeo, Brightcove, Ooyala, HTML5 and YouTube.
"We're committed to empower modern marketers, advertisers and designers with creative control of engaging interactive content. We love video and we know that making the use of video accessible and agile, also makes it more likely. I look at it as ion creating a more relevant web by making it easier for everyone to create more relevant content," Talerico said.
CMI's study went on to say "Interactive content uniquely provides experiences for the consumer by providing an engaging, immersive environment in which the consumer actively participates." Now ion interactive has brought that active participation to video.
ABOUT ION INTERACTIVE
ion interactive empowers modern marketers to produce engaging, interactive content marketing that generates higher quality leads. ion provides an agile technology platform and optional services programs to hundreds of leading brands and agencies like Anthem, Dell, DHL Express, Dun & Bradstreet, HP, Iron Mountain, Militello Capital, Nielsen, Polycom, Salesforce, Symantec and UBM. ion's platform launches, customizes and tests all types of state-of-the-art interactive content marketing experiences without development resources. ion's interactive infographics, ebooks, assessments, quizzes, lookbooks, interactive white papers, calculators, wizards and configurators deliver competitive differentiation, conversion performance and lead quality for in-house and agency teams.
How to Drive More Leads from Your Content by @annatalercio via @uberflip – https://t.co/lIKFnEPMUI #contentmarketing #leadgeneration

— ion interactive (@ioninteractive) June 26, 2016