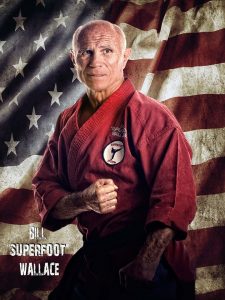 /UCW/ ATLANTIC CITY, NJ and BROOKLYN, NY – It was announced today that one of the true American Martial Arts legends, Bill "Superfoot" Wallace, will be in attendance at the 2017 Action Martial Arts Mega Weekend at the Tropicana Casino in Atlantic City, NJ. He will be part of the festivities, speaking with fans, conducting a rare free seminar, signing autographs and he will be along side other martial arts legends and leaders. This will be at the Tropicana Hotel and Casino in Atlantic City, NJ from January 27-29, 2017.
"I am honored that Bill Wallace has been a part of our family since the beginning, he is a true legend and fight master, so bringing fans this caliber of talent that they can interact and learn from is what we do at the Action Martial Arts Mega Weekend. We look forward to making additional announcements as we lead up to the once a year event in Atlantic City, NJ", Stated Action Martial Arts Mega Weekend founder Alan Goldberg.
About Bill "Superfoot" Wallace
Bill "Superfoot" Wallace retired as the undefeated Professional Karate Association (PKA) Middleweight Champion after defeating Robert Biggs in a 12-round bout in June 1980. The victory, his 23rd straight, signaled an end to an illustrious fifteen year career in tournament and full contact fighting. Known to the karate world as Superfoot, symbolic of his awesome left leg, which was once clocked in excess of 60 mph, Superfoot left a string of battered and bruised bodies along the martial arts fighting trail. He used his foot as others would use their hands, faking opponents with two or three rapid kicks and following with one solid knockout technique. His power, speed and precision were astounding. Superfoot, a 5'10", native of Portland, Indiana began studying karate in February 1967 after suffering a right leg injury in a judo accident. The injury left him without the use of his leg in karate competition. Some observers said that Superfoot was committing martial arts suicide. However, Wallace had other ideas. For the next several years, Superfoot dominated the point-tournament circuit.
As a national champion point fighter three years in a row, Superfoot captured virtually every major event on the tournament circuit. The more prestigious victories included: the U.S. Championships (three times), and the Top Ten Nationals (two times). Bill Wallace was such a dominant figure in the world of martial arts that Black Belt Magazine, the bible of industry publications, named him to its Hall of Fame three times in seven years—twice as "Competitor of the Year" and once as "Man of the Year". Bill Wallace has additionally received numerous Hall of Fame honors from around the globe. Century Martial Arts has bestowed upon him a Lifetime Achievement Award along with taping a video series, simply entitled "Legends." It has been noted that Superfoot is undeniably one of the ten most deadly men in the world.
In 1973, Superfoot, whose education includes a bachelor's degree in physical education from Ball State University and a master's degree (1976) in kinesiology from Memphis State University, suffered what many considered to be a career-ending injury. However, one of his friends, the late Elvis Presley, moved Superfoot into Graceland and called upon a renowned acupuncturist from Los Angeles to treat his friend. The result was simply amazing.
A year later, Bill Wallace, turned professional and captured the PKA middle weight karate championship with a second-round knockout (hook kick) of West German Bernd Grothe in Los Angeles. He relinquished the crown in 1980, undefeated and respected around the world.
Despite his retirement, Bill Wallace, continues to be one of the martial arts most popular figures. He is the author of three books: Karate: Basic Concepts & Skills, Dynamic Kicking and Stretching, and The Ultimate Kick. He additionally has a series of videos which continue to be very much in demand. All are considered staples for the serious martial artist.
A former member of the President's Council on Physical Fitness, Bill Wallace, has also been active in the film industry. His credit's include: A Force of One with Chuck Norris; Kill Point, with Cameron Mitchell; Continental Divide and Neighbors with John Belushi; The Protector with Jackie Chan; A Prayer for the Dying with Mickey Rourke; Ninja Turf; and A Sword of Heaven, among others. Mr. Wallace has close to twenty films under his "black belt" and continues to be involved in the entertainment industry.
Bill Wallace currently resides in South Florida where he lives with his wife and four dogs. He remains active in conducting seminars around the world, and has schools both in the United States and across the globe. He remains very much in demand for public appearances, seminars and films.
For more information go to http://superfoot.com/
About the Action Martial Arts Mega Weekend
The Ultimate Destination is the world's largest gathering of martial arts superstars, film and combat celebrities Wrestlers , Sport stars and renowned Masters from around the world. The Ultimate Destination is the only destination where you can congregate, meet, greet and share with thousands of fellow martial artists who gather together from around the globe. and the world's largest assembly of celebrities, champions, suppliers and, of course movers and shakers in the martial arts & MMA industry Thousands of people attend The Ultimate Destination each year.
Something for the Novice to the expert or even just a fan .There are 3 days of amazing seminars (50+) taught by THE BEST OF THE BEST and all seminars are free and new this year we have included a stage for 12 amazing shows throughout the weekend. Open to the public and to dinner guests.
Now with the Health and Fitness Industry In our show it has open even more doors, not being any surprise due the crossover markets our. In 2017 we have extended the Trade show to accommodate this new and growing part of our ever expanding event. In 2015 with the MMA and Martial Arts, and fitness Industry we were honored with the distinction of becoming one of the largest convention ever held in the Tropicana Casino Convention Hall.
Our Expo and Trade Show continually expand in many different directions, with over a 100 vendors spots. We have also expanded to include Martial Arts Business Conference with top of the line speakers. Expo Celeb Spot Lights : , Michael Jai White, Cary Tagawa, , Chuck Zito, Ray Mercer, Curtis Sliwa , Don the Dragon Wilson Cynthia Rothrock , Phil Morris ,.UFC stars such as Dan The Beast Severn, Shonie Carter, , Kick boxing champions like Benny the Jet, Bill Wallace , Wrestling Greats as Tito Santana , Ernest The Cat Miller, Mark Henry, plus 20 others
As a added attraction we have 5 Tournaments and Competitions including:
Of course, we are having the Friday night Red Carpet Wine and Cheese Dance Party and it's open to all. And then the anchoring of the weekend is our Saturday night banquet dubbed the "Academy Awards of Martial Arts". Our star studded banquet has taken place for over 16 years with over 1,000 dressed in their best. We are proud to reach the point as the largest banquet in the history of the Tropicana
The only destination is The Ultimate Destination for Martial Arts taking place on January 27-29, 2017 at The Tropicana Casino & Resort Atlantic City.
For more information contact Alan Goldberg at [email protected] or call him at 718-856-8070. You can also visit the website www.ActionMagstore.com for event information and registration forms for The Ultimate destination.
Contact:
Action Martial Arts Magazine
1222 Flatbush Ave
Brooklyn NY 11226
Email [email protected]
718-856-8070
www.actionmagstore.com
Tropicana Atlantic City hotel's website is www.tropicana.net
The Ultimate Destination For Martial Arts , MMA & The Health and Fitness Minded