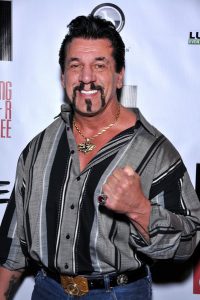 /UCW/ ATLANTIC CITY, NJ and BROOKLYN, NY – It was announced today that the original Italian Bad Boy Chuck Zito will be in attendance at the 2017 Action Martial Arts Mega Weekend at the Tropicana Casino in Atlantic City, NJ. He will be part of the overall event, participating in the festivities, speaking with fans, conducting a rare free seminar, signing autographed pictures, autographing copies of his book and he will be along side other martial arts legends and leaders. This will be at the Tropicana Hotel and Casino in Atlantic City, NJ from January 27-29, 2017.
"I am honored that my long time friend Chuck Zito will be with us at the Tropicana Casino in later this month. He has been a part of the Action Martial Arts Magazine family since the very beginning and he is a true Hollywood staple and martial arts leader. we look forward to making additional announcements as we lead up to the once a year event in Atlantic City, NJ", Stated Action Martial Arts Mega Weekend founder Alan Goldberg.
About Chuck Zito
Chuck Zito was born in New York, the son of a professional welterweight boxer, Zito was taught at an early age how to fight and defend himself. Following in his father's footsteps, Zito became an amateur boxer and fought in New York Golden Gloves while working manual labor. In 1980, after assisting the bodyguards of actor Robert Conrad at a motorcycle convention, Zito began his own bodyguard agency. Named Charlie's Angels Bodyguard Services, Zito initially provided protection for actress Lorna Luft and later was hired by her half-sister Liza Minnelli. The actress recommended Zito's service to her plethora of celebrity acquaintances, allowing Zito to quickly develop contacts throughout Hollywood.
Parlaying his connection, Zito began a career as a stuntman working on films such as Year of the Dragon, Hudson Hawk, and The Rock. In 1996, after a meeting with producer Tom Fontana, Zito joined the HBO prison drama Oz as mobster Chucky Pancamo. Over the years Zito has alternated with stunt work and acting with credits for stunt work in films like Fifteen Minutes and acting roles in the film This Thing of Ours.
In 2003, Zito released his autobiography, Street Justice, co-authored with Joe Layden. In 2006, Zito expanded into radio with the show Chuck Zito's View on Howard Stern's Sirius Satellite Radio station
In 2010, Zito filed a $5 million lawsuit against the cable network FX, alleging that he had a development meeting with them in 2006, in which he pitched the idea of an outlaw motorcycle group. He alleges that FX blew him off and then stole his idea, which became the FX show Sons of Anarchy. On December 11, 2011, a court judgment was ruled against Zito. Zito appeared in Sons of Anarchy season 5, as
Frankie Diamonds. He also appeared in SOA creator Kurt Sutter's Discovery Channel documentary series, Outlaw Empires.
In 2013, Zito competed on Food Network Television's Chopped along with NASCAR's Danica Patrick, NFL star Tiki Barber, and Olympic Champion Natalie Coughlin.
For more information go to http://www.chuckzito.com
About the Action Martial Arts Mega Weekend
The Ultimate Destination is the world's largest gathering of martial arts superstars, film and combat celebrities Wrestlers , Sport stars and renowned Masters from around the world. The Ultimate Destination is the only destination where you can congregate, meet, greet and share with thousands of fellow martial artists who gather together from around the globe. and the world's largest assembly of celebrities, champions, suppliers and, of course movers and shakers in the martial arts & MMA industry Thousands of people attend The Ultimate Destination each year.
Something for the Novice to the expert or even just a fan .There are 3 days of amazing seminars (50+) taught by THE BEST OF THE BEST and all seminars are free and new this year we have included a stage for 12 amazing shows throughout the weekend. Open to the public and to dinner guests.
Now with the Health and Fitness Industry In our show it has open even more doors, not being any surprise due the crossover markets our. In 2017 we have extended the Trade show to accommodate this new and growing part of our ever expanding event. In 2015 with the MMA and Martial Arts, and fitness Industry we were honored with the distinction of becoming one of the largest convention ever held in the Tropicana Casino Convention Hall.
Our Expo and Trade Show continually expand in many different directions, with over a 100 vendors spots. We have also expanded to include Martial Arts Business Conference with top of the line speakers. Expo Celeb Spot Lights : , Michael Jai White, Cary Tagawa, , Chuck Zito, Ray Mercer, Curtis Sliwa , Don the Dragon Wilson Cynthia Rothrock , Phil Morris ,.UFC stars such as Dan The Beast Severn, Shonie Carter, , Kick boxing champions like Benny the Jet, Bill Wallace , Wrestling Greats as Tito Santana , Ernest The Cat Miller, Mark Henry, plus 20 others.
As a added attraction we have 5 Tournaments and Competitions including:
Of course, we are having the Friday night Red Carpet Wine and Cheese Dance Party and it's open to all. And then the anchoring of the weekend is our Saturday night banquet dubbed the "Academy Awards of Martial Arts". Our star studded banquet has taken place for over 16 years with over 1,000 dressed in their best. We are proud to reach the point as the largest banquet in the history of the Tropicana
The only destination is The Ultimate Destination for Martial Arts taking place on January 27-29, 2017 at The Tropicana Casino & Resort Atlantic City.
For more information contact Alan Goldberg at [email protected] or call him at 718-856-8070. You can also visit the website www.ActionMagstore.com for event information and registration forms for The Ultimate destination.
Contact:
Action Martial Arts Magazine
1222 Flatbush Ave
Brooklyn NY 11226
Email [email protected]
718-856-8070
www.actionmagstore.com
Tropicana Atlantic City hotel's website is www.tropicana.net
The Ultimate Destination For Martial Arts , MMA & The Health and Fitness Minded