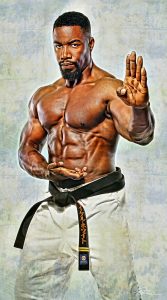 /UCW/ ATLANTIC CITY, NJ and BROOKLYN, NY – It was announced today that Hollywood film star and world renowned martial artist Michael Jai White is slated to attend the largest martial arts event of its kind in the world, The Action Martial Arts Mega Weekend in Atlantic City, NJ. He will be part of the festivities, speaking with fans, conducting a rare free seminar, signing autographed pictures and he will be along side other martial arts legends and leaders. This will be at the Tropicana Hotel and Casino in Atlantic City, NJ from January 27-29, 2017.
"Its always an honor to have Michael Jai White and his wife Gillian at our event, he is a part of our family. The way he interacts with the fans, something normally fans would have difficulty doing, is always a treat. Michael is a true Hollywood staple and star, we all look forward to him continuing to prosper in the movie industry as he has. We look forward to making additional announcements as we lead up to the once a year event in Atlantic City, NJ", Stated Action Martial Arts Mega Weekend founder Alan Goldberg.
About Michael Jai White
Michael Jai White is a Brooklyn native and an accomplished martial artist, holding black belts in eight different styles: Shotokan, Taekwondo, Kobudo, Goju Ryu (for which he studied under Master Eddie Morales where he learned to sharpen his Goju karate technique), Tang Soo Do, Wushu and Kyokushin, with a specific focus in Kyokushin (although his style incorporates aspects of many different martial arts forms). White started training in the martial arts at the age of seven in Jujutsu and then Shotokan moving to other styles later.
He is a former teacher. He cites his history in education as the reason why, despite his personal love for the music genre on "a lot of levels", he cannot "in good [conscience]" have a positive opinion on hip hop or "excuse some of [its] pervasive and destructive elements", due to his experience with youngsters who had difficulty seeing the difference between it and real life.
White's first major starring role and breakout performance was in the 1995 HBO film Tyson, as heavyweight boxer Mike Tyson. He portrayed the eponymous character in the 1997 movie Spawn, making him the first African American to portray a major comic book superhero in a major motion picture. His work in Spawn earned him a nomination for the Blockbuster Entertainment Award for Best Male Newcomer. White starred opposite Jean-Claude Van Damme in Universal Soldier: The Return. In 2001, he also starred opposite fellow martial artist Steven Seagal in Exit Wounds. In 2003, he starred in Busta Rhymes' and Mariah Carey's music video "I Know What You Want". Since 2003, in addition to his on screen roles, White has been doing voice work, including Static Shock and the Justice League. White showcases his martial arts skills in the direct-to-DVD film Undisputed II: Last Man Standing. He also appears in Michelle Yeoh's Silver Hawk in 2004. He appeared in Kill Bill: Volume 2, although his role was cut from the theatrical release. His film Why Did I Get Married? opened at number one at the box office on October 12, 2007.
He played the role of the mob boss Gambol in the 2008 film The Dark Knight. He also starred in the film Blood and Bone and the blaxploitation homage Black Dynamite, both released in 2009. White wrote the scripts for both Black Dynamite and his upcoming 3 Bullets in which he stars with Bokeem Woodbine.
On March 30, 2010, White appeared on The Mo'Nique Show to promote his film Why Did I Get Married Too. The two joked about the acclaim that comes with winning an Oscar. In May of that year he appeared in the music video for Toni Braxton's new song "Hands Tied" from her album Pulse, as well as the Nicki Minaj music video for "Your Love" as Nicki's sensei and love interest.
He also starred in Kevin Tancharoen's short film Mortal Kombat: Rebirth, as Jax Briggs, and reprised the role in Mortal Kombat: Legacy, a webseries from the same director. He recently posted on Twitter that he would not be returning to the role for the second season, but would return for the 2013 film.
White made his directorial debut and starred in Never Back Down 2: The Beatdown, which was released on home video on September 13, 2011. He also provided the voice of Green Lantern John Stewart in the video game Justice League Heroes
About the Action Martial Arts Mega Weekend
The Ultimate Destination is the world's largest gathering of martial arts superstars, film and combat celebrities Wrestlers , Sport stars and renowned Masters from around the world. The Ultimate Destination is the only destination where you can congregate, meet, greet and share with thousands of fellow martial artists who gather together from around the globe. and the world's largest assembly of celebrities, champions, suppliers and, of course movers and shakers in the martial arts & MMA industry Thousands of people attend The Ultimate Destination each year.
Something for the Novice to the expert or even just a fan .There are 3 days of amazing seminars (50+) taught by THE BEST OF THE BEST and all seminars are free and new this year we have included a stage for 12 amazing shows throughout the weekend. Open to the public and to dinner guests.
Now with the Health and Fitness Industry In our show it has open even more doors, not being any surprise due the crossover markets our. In 2017 we have extended the Trade show to accommodate this new and growing part of our ever expanding event. In 2015 with the MMA and Martial Arts, and fitness Industry we were honored with the distinction of becoming one of the largest convention ever held in the Tropicana Casino Convention Hall.
Our Expo and Trade Show continually expand in many different directions, with over a 100 vendors spots. We have also expanded to include Martial Arts Business Conference with top of the line speakers. Expo Celeb Spot Lights : , Michael Jai White, Cary Tagawa, , Chuck Zito, Ray Mercer, Curtis Sliwa , Don the Dragon Wilson Cynthia Rothrock , Phil Morris ,.UFC stars such as Dan The Beast Severn, Shonie Carter, , Kick boxing champions like Benny the Jet, Bill Wallace , Wrestling Greats as Tito Santana , Ernest The Cat Miller, Mark Henry, plus 20 others.
As a added attraction we have 5 Tournaments and Competitions including:
Of course, we are having the Friday night Red Carpet Wine and Cheese Dance Party and it's open to all. And then the anchoring of the weekend is our Saturday night banquet dubbed the "Academy Awards of Martial Arts". Our star studded banquet has taken place for over 16 years with over 1,000 dressed in their best. We are proud to reach the point as the largest banquet in the history of the Tropicana
The only destination is The Ultimate Destination for Martial Arts taking place on January 27-29, 2017 at The Tropicana Casino & Resort Atlantic City.
For more information contact Alan Goldberg at [email protected] or call him at 718-856-8070. You can also visit the website www.ActionMagstore.com for event information and registration forms for The Ultimate destination.
Contact:
Action Martial Arts Magazine
1222 Flatbush Ave
Brooklyn NY 11226
Email [email protected]
718-856-8070
www.actionmagstore.com
Tropicana Atlantic City hotel's website is www.tropicana.net
The Ultimate Destination For Martial Arts , MMA & The Health and Fitness Minded
2015 Promo Video