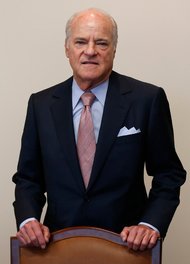 /UCW/ Henry Kravis cofounded private equity firm Kohlberg Kravis & Roberts with his cousin George Roberts and their former Bear Stearns boss Jerome Kohlberg (d. 2015) in 1976. In 1989, KKR orchestrated the $25 billion buyout of RJR Nabisco; the deal became the basis of the bestselling book "Barbarians at the Gate." he is Co-Chairman and Co-Chief Executive Officer of KKR.
He is actively involved in managing the Firm and serves on regional Private Equity Investment and Portfolio Management Committees. Mr. Kravis currently serves on the boards of First Data Corporation and ICONIQ Capital, LLC. He also serves as a director, chairman emeritus or trustee of several cultural, professional, and educational institutions, including The Business Council, Claremont McKenna College, Columbia Business School, Mount Sinai Hospital, Partnership for New York City, Partnership Fund for New York City, Rockefeller University, Sponsors for Educational Opportunity and Tsinghua University School of Economics and Management.
He earned a B.A. from Claremont McKenna College in 1967 and an M.B.A. from the Columbia Business School in 1969. Mr. Kravis has more than four decades of experience financing, analyzing, and investing in public and private companies, as well as serving on the boards of a number of KKR portfolio companies.
www.kkr.com
https://www.bloomberg.com/features/2016-henry-kravis-interview/
http://www.businessinsider.com/henry-kraviss-no-1-piece-of-advice-to-young-people-2016-6