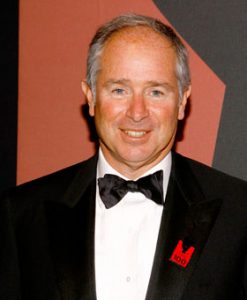 /UCW/ Stephen Schwarzman is co-founder and CEO of Blackstone Group, The son of a dry goods store owner, Stephen Schwarzman rose through the ranks at investment bank Lehman Brothers, then struck out on his own with fellow billionaire Peter Peterson in 1985. The duo named their boutique merger-and-acquisition advisory firm Blackstone — "Schwarz" means black in German and Yiddish, while "Peter" means stone in Greek.
The business, which later expanded into leveraged buyouts, now manages over $350 billion in assets and trades on the New York Stock Exchange after a $4 billion initial public offering in 2007. While Peterson retired from the company in 2008, Schwarzman still runs the world's largest buyout firm as CEO and chairman. An active philanthropist, he has pledged or given away $350 million to support alma his mater Yale, Chinese university Tsinghua, and the New York Public Library.
In December 2016 President-elect Donald Trump announced that Schwarzman will chair the 'President's Strategic and Policy Forum,' an advisory group consisting of executives from companies including JPMorgan Chase, GM and the Walt Disney Company.
Stephen Schwarzman on Forbes Lists
#52 Powerful People (2016)
#62 in 2015
#45 Forbes 400 (2016)
#113 Billionaires (2016)
#46 in United States
Blackstone Announces Acquisition Of Aon's Technology-Enabled Benefits & HR Platform https://t.co/xTLCy7x8B9

— Blackstone (@blackstone) February 11, 2017