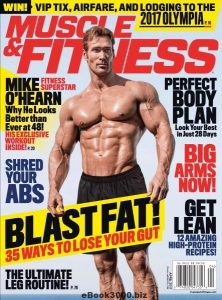 /UCW/ In the world of Bodybuilding and Fitness there is one name that stands out beyond Arnold Schwarzenegger and no its not Richard Simmons or Body by Jake, its the man that they call "TITAN". Mike O'Hearn has graced the cover of well over 500 health and fitness magazines worldwide. For a second time he has joined the likes of Hugh Jackman, 50 Cent, Dwayne Johnson aka "The Rock" , Triple H, Terry Crews, Batista, Bruce Lee and Arnold Schwarzenegger to take center stage as the cover for the top bodybuilding and fitness magazine in the world, Muscle and Fitness.
In the April 2017 issue you'll learn a lot about Mike O'Hearn and especially his premiere product line Innov8 Nutraceuticals, which he is a co-owner with former New England Patriot Heath Evans.
NOW this is the good news for all you fitness freaks out there, Innov8 has decided to run a contest from TODAY through April 4, 2017 for an ALL EXPENSE PAID weekend to Los Angeles, from ANYWHERE in the world, to train with Team Innov8, which consist of Mike O'Hearn, Heath Evans, Mona Muresan, Gavan Murphy, Lance Keys and a few other select souls.
That is where it all starts, the winner will also feast with Team Innov8 which could be an experience within itself and if they are lucky they will meet Stryker, the real show stopper!
So here are the rules:
1 – Pick up the new April Issue of Muscle and Fitness Magazine, available at newsstand right now
2 – Take a photo with your copy of the magazine and tag, @muscle_and_fitness, @innov8athlete & @mikeohearn on Twitter and Instagram
3 – Make a purchase on www.innov8athlete.com
This must be done by April 4th to qualify and the winner for the trip will be selected on April 7th. Everyone else that entered will receive an awesome consolation prize as a thank you for participating from Team Innov8.
So the clock is running and the time to do this is now!!
For more details go to www.innov8athlete.com
Today put in the work and make them dreams come true #LivingTheDream @muscle_fitness pic.twitter.com/1I7tZhjx63

— Mike Titan O'Hearn (@MikeOHearn) March 24, 2017
10 WWE Superstars to watch closely at WrestleMania 33. https://t.co/gDzhkjlgF2 pic.twitter.com/ziIt4ztDgl

— Muscle & Fitness (@muscle_fitness) March 30, 2017
Team INNOV8 @MikeOHearn & @HeathEvans44 talking shop and hanging with NFL Great @HerschelWalker #ASF2017 pic.twitter.com/b2ItokGiLG

— Innov8Nutraceuticals (@innov8athlete) March 4, 2017
https://www.instagram.com/p/BSTuF2sDO_j/?taken-by=mikeohearn&hl=en