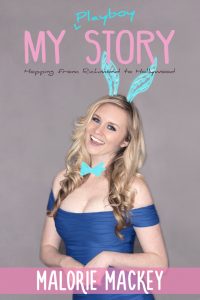 /UCW/ HOLLYWOOD, CA – Have you ever imagined living in a small town, being the girl next door, and dreaming of making a cross-country trip to Hollywood to become a star? From living in Richmond, Virginia (population 200,000) to being thrust in the limelight in Los Angeles, the 2nd largest media market in the U.S.? In the blink of an eye, you are being photographed on exclusive red carpets, signing autographs, and hanging out at the Playboy Mansion with the world's most recognizable international models, actors, and actresses. Well, she did it!
Meet former Modelogic/Wilhelmina model and actress Malorie Mackey who gives readers a VIP pass to the Mansion and Playboy lifestyle in her new tell-all memoir explaining how she did it. Titled My Playboy Story: Hopping from Richmond to Hollywood, the book will be available via Kindle, Amazon, iBook, and select book stores on March 22, 2017. Pre-orders are now available online with Amazon.
In My Playboy Story, Mackey highlights how she, a self-described tomboy and prude, finds herself immersed in the world of pageantry in Los Angeles and then subsequently how she is adopted into the high life, the Playboy world!
After having a successful career as a model in Richmond, Mackey made the cross-country trip to Hollywood risking it all for a chance at a career in Hollywood. She found herself competing in the Miss California USA pageant. A big fan of the TV Series Girl Next Door, she longed for the chance to one day visit the Mansion. In her memoir, Mackey not only explains how she got to the Mansion, but also the cast of odd, interesting, and bizarre characters she's encountered in Hollywood and in the Playboyverse.
Marketing and publicity plans for My Playboy Story: Hopping from Richmond to Hollywood include a VIP book signing party hosted by Mackey with several models, actresses, and former Playboy Playmates. Malorie's hashtag for the book is #myplayboystory, and readers are encouraged to share fun and creative photos of themselves on Instagram and Twitter wearing bunny ears. They are encouraged to be as cute, sexy, fun, or random as they want to be. So, get creative! The best photos tagged with the hashtags will win free signed copies of the book.
Malorie grew up in Richmond, Virginia where she loved sports, the outdoors, animals, and all forms of art. She took to acting at a young age, so it was no surprise when she decided to go to college for theatre. While in college, Malorie studied body movement with the DAH Theatre in Belgrade, Serbia, voice in Herefordshire, England with Frankie Armstrong, and the business of theatre in Buenos Aires, Argentina. Malorie moved from the East Coast to Los Angeles after receiving her BFA in Theatre Performance from Virginia Commonwealth University. Upon arriving, Malorie participated in the Miss California USA 2011 Pageant where she won the "Friend's Choice" Award (popular vote) and received a beautiful award for it. Since being on the West Coast, Malorie can be seen working on many Indie films, such as the Sci Fi Movie "Dracano." Most recently, Malorie starred in the Biography Channel show "My Haunted House" and the TV Pilot "Model Citizen" with Angie Everhart. She ended 2014 working on three Indie Films: "The Big Shot," "The Taker," and "The Summerland Project." Throughout her experiences, Malorie has kept diligent journal entries. It was these entries that became My Playboy Story: Hopping from Richmond to Hollywood. Malorie is inspired to continue writing. Next on her docket is to create a travel book. Stay tuned as Malorie travels the World making this dream a reality.
For Galleys, Imagery and Interviews Contact
DMG
Edith Torres
[email protected]
www.dumontmarketing.com
Click below to find out more on Amazon.com: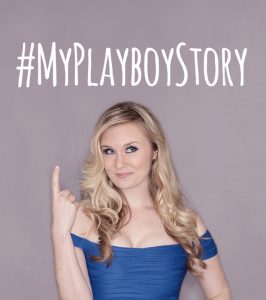 Happy to release of the 2nd edition of my book, now titled, "My Playboy Story: Hopping from Richmond to Hollywood." https://t.co/FeSFqQCkys

— Malorie Mackey (@MalorieMackey) March 22, 2017
https://www.instagram.com/p/BSO6rl3jHKl/?taken-by=maloriemackey&hl=en