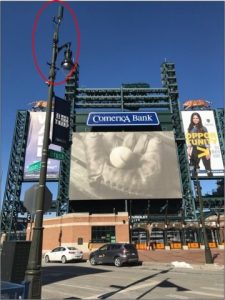 /UCW/ DETROIT, MI – Over the past year, Sprint (NYSE: [stock symbol="S"]) has worked to quietly make extensive network upgrades in Detroit's downtown area to improve the fan experience. The company recently implemented dozens of new small cell sites throughout the area to expand coverage and increase network capacity. In other words, local Sprint wireless customers now can make the most of game days, sending photos and streaming video during times of peak network usage.
To increase capacity and enhance network coverage, Sprint has added dozens of small cells sites that attach to utility poles and lamp posts near public venues in downtown Detroit.
In addition to deploying some of the most advanced technologies in wireless, Sprint is focused on expanding and fine-tuning the network in Detroit. In the past year, the company added new cell sites, increased its coverage and capacity, and systematically optimized each cell site to maximize performance. Sprint also improved service and upgraded the wireless systems at Comerica Park, MGM Grand, Ford Field, Cobo Hall, and at the Detroit Athletic Club.
"Just like the city of Detroit, Sprint is the comeback kid in wireless," said Scott Santi, Sprint Vice President for Network. "The greater downtown area is seeing an incredible revitalization and Sprint has rebuilt its network and continues to grow right alongside of the city. We believe in Detroit and our network investment is our commitment to keep pace with consumers' increasing need for reliability, speed and overall better coverage."
Sprint has invested hundreds of millions of dollars over the last five years improving Detroit's wireless network. Within the next six months, Sprint has plans to continue adding hundreds of new cell sites in Detroit and across Southeast Michigan.
Learn more about Sprint in Detroit
Connect with Sprint in Michigan
About Sprint:
Sprint (NYSE: S) is a communications services company that creates more and better ways to connect its customers to the things they care about most. Sprint served 59.5 million connections as of Dec. 31, 2016 and is widely recognized for developing, engineering and deploying innovative technologies, including the first wireless 4G service from a national carrier in the United States; leading no-contract brands including Virgin Mobile USA, Boost Mobile, and Assurance Wireless; instant national and international push-to-talk capabilities; and a global Tier 1 Internet backbone. Sprint has been named to the Dow Jones Sustainability Index (DJSI) North America for the past five years. You can learn more and visit Sprint at www.sprint.com or www.facebook.com/sprint and www.twitter.com/sprint.
Sprint
Roni Singleton, 404-649-8354
[email protected]
Source: Sprint