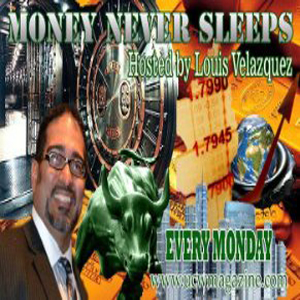 Welcome to Money Never Sleeps, the show where we talk about every thing and anything that impacts the flow of money from around the corner to around the world.
Firstly I want to send prayers out from myself and everyone at Falcon Global Acquisitions for all those impacted by Hurricane Harvey, especially those in Houston who have been pounded with rain over the past few days creating very dangerous conditions. This is definitely one of the worst floods that have hit the area in some time; Gulf States are prone to flooding in general but nothing like this. I went through Hurricane Sandy and it was a bad one and from the power outages and lack of gas supplies, it was something I would never want to go through again.
I remember having to stand on a long line to get gas to power peoples generators, going out to help as many people as I could and doing some supply gathering for pets. This is a time when everyone needs to pitch in and help in the ways that they can.
Houston Texans JJ Watt jumped into action creating a crowdfunding effort to help relief efforts in Houston, you can find that at www.youcaring.com/jjwatt I believe and do your part, nothing is too little to help.
When its all said and done and the water subsides, the help doesn't stop there, the devastation will remain for some time. From Homes and businesses to the ports and roads all having to be repaired. The biggest damage would have to the houses and buildings, the water damage will be extensive and the cleanup as well as the rebuilding process will take a lot of time as the insurance companies and FEMA sought through it all.
The biggest issue in areas that are prone to flooding is preparedness, is the government doing enough to insure the reduction of damage when these natural events occur? are the insurance companies doing enough to come up with solutions that help property owners and themselves?
I would have to say they are not, not because they don't want to but because they don't have a way to. This is why innovation is key and its also why changing how construction is done will have a positive impact. Horton Global Industries, better known as HGI, is pioneering in the technology driven modular manufacturing arena, being a truly innovative technology company with a keen focus on modular construction, HGI is seeking to change how construction is done today and affordably.
The homes and buildings that will be built will not incorporate traditional building materials, they will be water and mold proof, termite proof and fire retardant as well as hurricane resistant up to 200 plus mph winds. The smart technology that will be standard in all builds range from proprietary solar power systems to smart home systems preparing these homes for the next few decades of innovation and keeping them in place during disasters.
The addition of proprietary supplemental water systems will allow the builds to have a secondary consistent clean drinking water supply in the event of disasters such as Hurricane Harvey. Having the technology in place that will have consistent primary power in the HGI builds is a key element, as traditional builds can be without power for weeks if not months if there is no backup generator in place.
Just imagine being the center of a flooding situation like this and having access to power and clean water, these are options that can save lives. Also I want you to imagine having the ability to isolate your vehicle in a waterproof environment when needed but also use it every day as your garage, all at the press of a button.
All of these innovations and so much more will be coming in later 2017 from HGI and I am so sure that the latest technology coming out of the company will not only have an impact but also be for everyone, as they will be affordable and standard in the next generation of builds coming out of HGI.
I get excited just talking about all the innovation that will be coming down the pike and its not just about making a profit, its about bringing everyone into the new age of technology. The goal of HGI is to make technology in the modular builds and even beyond that, affordable. So that with strategic partnerships with philanthropic organizations we can bring builds to impoverished nations that would give sustainable power and clean water to the builds and communities.
There is a bigger plan with HGI and I look forward to continuing to share the story of our journey and the impact that we will be making globally. Just remember being a for profit company doesn't mean that the company has less of an obligation to do good for others, so just watch what HGI will be doing and we look forward to the increased support from government agencies, communities and just anyone that believes that we can do more to add to the world.
Louis Velazquez
Host
Money Never Sleeps Radio
LISTEN TO THE SHOW BELOW
The flooding in Houston is up there w/ New Orleans & I praise those rescuers helping w/ evacuations , more needs to be done #HoustonFloods pic.twitter.com/oQgIVtu3e0

— Louis Velazquez (@louisvelazquez) August 28, 2017