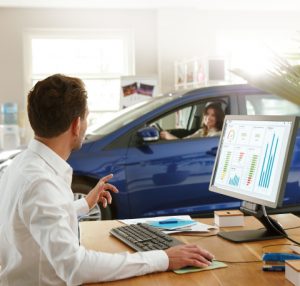 /UCW/ AMSTERDAM, NETHERLANDS – LeasePlan, one of the world's largest fleet management companies, and TomTom Telematics, a world leader in vehicle telematics and connected car services, today announce a partnership where LeasePlan will offer the latest in cloud-based fleet management technology to its corporate customers. The partnership is a key element in LeasePlan's strategy to deliver 'Any car, Anytime, Anywhere'.
Under the service agreement, LeasePlan customers will be able to access TomTom's advanced cloud-based fleet management and connected car solutions, including WEBFLEET. These solutions – all of which support customer compliance with the latest data privacy legislation – help corporate fleet and mobility managers improve performance by providing real-time data on key fleet metrics. For drivers, car connectivity will deliver smarter mobility solutions which enhance the overall driving experience, improve efficiency on the road and make life easier.
LeasePlan will also leverage the cloud-based TomTom Telematics Service Platform, enabling the company to further optimize the performance of its fleet management activities in key areas such as vehicle maintenance and contract management.
Tex Gunning, CEO LeasePlan, said: "With our 'Digital Power of One LeasePlan' strategy, we will use the latest technologies to bring our company into the digital world and make LeasePlan's aspiration of 'Any car, Anytime, Anywhere' a reality. I'm therefore delighted to announce LeasePlan's partnership with TomTom Telematics, which is a great proof point of our digital approach. From now on, we will be able to provide our customers with real-time data on key fleet management metrics such as vehicle maintenance requirements and carbon dioxide emissions. For us, this is the future of mobility."
Thomas Schmidt, Managing Director TomTom Telematics, said: "The agreement with LeasePlan shows how we are focused on widening our portfolio of business customers. Giving a leasing company access to the power of the TomTom Telematics Service Platform on an international scale provides further evidence of our connected-car strategy for the future. Vehicles will increasingly be connected to back-end services in the future, allowing us to create all kinds of new services for large fleet service providers, such as vehicle maintenance and maintenance alerts for leasing companies."
This partnership will have no material financial impact on this year's financial results. We at TomTom are nonetheless excited to share the news about our partnership with LeasePlan, which is in line with TomTom strategy and is beneficial to our long-term development.
About TomTom
TomTom empowers movement. Every day millions of people around the world depend on TomTom to make smarter decisions. We design and develop innovative products that make it easy for people to keep moving towards their goals. Our map-based components include map content, online map-based services, real-time traffic and navigation software. Our consumer products include PNDs, navigation apps and sports watches. Our main business products are custom in-dash navigation systems and a fleet management system, which is offered to fleet owners as an online service with integrated in-vehicle cellular devices. Our business consists of four customer facing business units: Automotive, Licensing, Telematics and Consumer.
Founded in 1991 and headquartered in Amsterdam, we have more than 4,700 employees worldwide. For further information, please visit www.tomtom.com
About TomTom Telematics
TomTom Telematics is a Business Unit of TomTom dedicated to fleet management, vehicle telematics and connected car services. WEBFLEET is a Software-as-a-Service solution, used by small to large businesses to improve vehicle performance, save fuel, support drivers and increase overall fleet efficiency. In addition, TomTom Telematics provides services for the insurance, rental and leasing industries, car importers and companies that address businesses as well as consumers. TomTom Telematics is one of the world's leading telematics solution providers with more than 785,000 subscriptions worldwide. The company services drivers in more than 60 countries, giving them the industry's strongest local support network and widest range of sector-specific third party applications and integrations. More than 48,000 customers benefit every day from the high standards of confidentiality, integrity and availability of our ISO/IEC 27001:2013 certified service, re-audited in November 2016.
For further information, please visit telematics.tomtom.com/connectedcar
Follow us on Twitter @TomTomWEBFLEET
About LeasePlan
LeasePlan is one of the world's leading vehicle leasing companies, with approximately 1.7 million vehicles under our care in over 30 countries. Its core business involves managing the entire vehicle life-cycle for clients, taking care of everything from purchasing, insurance and maintenance to car re-marketing. With over 50 years' experience, LeasePlan is a trusted partner for our private, SME, corporate and mobility service clients. Its mission is to provide innovative, sustainable vehicle leasing solutions whoever you are and wherever you need to be – so you can focus on what's next.
For more information, please visit www.leaseplan.com.
TomTom
Media:
Sarah Schweiger, +31 20 75 75 124
[email protected]
or
Investor Relations:
Bisera Grubesic, +31 20 75 75 194
[email protected]
or
LeasePlan
Media:
Harmen van der Molen, +31 6 5073 2424
[email protected]
Source: TomTom Telematics
What's next? @LeasePlanCorp and @RichardHammond with #TomTomTelematics delivering ''Any car, Anytime, Anywhere'' https://t.co/RjiPmQXJJu

— TomTom (@TomTom) October 20, 2017