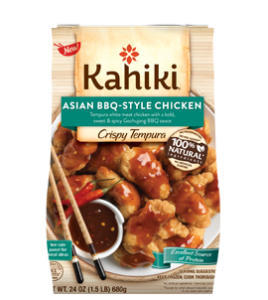 /UCW/ COLUMBUS, OHIO – Progressive Grocer Magazine's 14th annual competition reviewed products launched between May 2016 – April 2017. Over 200 submissions were thoroughly critiqued for:
    Innovation
    Overall Value
    Functionality
    Taste
A winner! Kahiki's Crispy Tempura Asian BBQ-Style Chicken entrée meal was chosen as one of the winners by Progressive Grocer Magazine's Editor's Picks.
Kahiki Foods, the fearless creators of fantastic frozen Asian cuisine, is at it again with their latest premium, taste-bud tickling, 100% natural creation. Progressive Grocer's reviewers commented, "Consumers want mealtime solutions that are quick, easy and tasty, and we found all three in this zesty oven-finished frozen entrée from Kahiki." As with all Kahiki's products, this exceptional Crispy Tempura entrée is made with only 100% natural ingredients, no preservatives, artificial flavors, or MSG added.
Crispy Tempura Asian BBQ-Style Chicken was launched in January 2017 after extensive exploration in Kahiki's R&D Kitchen. 40% of Millennials want to try ethnic cuisine, especially cuisine with some heat (2015 Millennial Marketing report). The draw to adventurous flavors will find the kick from spicy Gochujang in Kahiki's Asian BBQ-Style Chicken.
The current Crispy Tempura product lineup:
    Asian BBQ-Style Chicken*
    Honey Chicken
    General Tso's Chicken
    Orange Chicken
    Sweet & Sour Chicken
*The Crispy Tempura with the spiciest kick – to date.
After being one of the winners last year with the launch of their unique new line of Bowl & Roll products, Kahiki is proud to be part of the Editor's Pick for the second year in a row.
"We are delighted by the recognition bestowed by Progressive Grocer Magazine for our latest Crispy Tempura flavor. We feel our efforts to share our passion about our products is being rewarded," said Martin Kelly, the Big Kahuna at Kahiki. "Our team gets fired up about using their creativity to excite our consumers with new, innovative products," added Kelly.
To find Kahiki's Crispy Tempura Asian BBQ-Style Chicken near you, visit Kahiki's product locator at: http://www.kahiki.com/where-to-buy
About Kahiki Foods, Inc.
What's not to LOVE about bold Asian flavors that stir your senses? Making your meals a delicious adventure drives us to do what we've been doing now for over 55 years. And we have a blast doing it. Even our name is fun … just try to say Kahiki [kah-hee-kee] without smiling. Join the action at http://www.kahiki.com!
Want to know more? Drop a line to Kahiki's Tiki Torchbearer, Carole Bordak, at carole.bordak(at)kahiki(dot)com.
Contact:
Carole Bordak
Kahiki Foods, Inc
+1 (614) 322-3180 Ext: 168
http://www.kahiki.com/
Okay so we got some noodle dishes, but is a noodle pasta? What is pasta?
Is pasta the noodle or is it the noodle + sauce? #NationalPastaDay pic.twitter.com/RUxzmBzkS5

— Kahiki Foods (@KahikiFoods) October 17, 2017