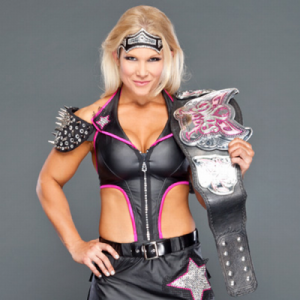 /UCW/ This is an interview conducted by Louis Velazquez with Beth Phoenix in 2004
Louis Velazquez: We are here today with one the bright and rising stars on the Indy scene, she went from Amateur to Pro, she hails from Buffalo, NY, she is the "Fabulous Firebird Phoenix" , Phoenix thank you for taking time out for us this month.
Beth Phoenix: You are more than welcome, it's my pleasure
Louis Velazquez: Well we are glad to have you here, now Phoenix what got you interested in Pro Wrestling?
Beth Phoenix: As the old story goes, I grew up watching wrestling with my grandma. I just got infatuated with it. It influenced my life a lot growing up and a lot of the decisions I made as a young adult. It's been a very positive influence in my life and I've always felt a calling that I was meant to do this. I didn't choose wrestling, wrestling chose me.
Louis Velazquez: Thats profound, I know that you were an amateur grappler early on, but stepping in between the ropes is a different feeling in itself, how did it feel for you?
Beth Phoenix: The first time I "stepped into the ring" as a trainee was a lot different from the mats I was used to as an amateur wrestler in high school and with USA Wrestling. I learned respect for the damage that you can do to yourself in pro wrestling right away. It was a humbling and empowering experience that I still feel every time I go out there.
Louis Velazquez: I'm glad that you said that because most people think that just anyone can step into the ring, its not that easy, Phoenix who came up with your gimmick?
Beth Phoenix: I came up with my own name. It wasn't so much an influence of Marvel's popular comic character from the X-Men as it was the symbolism of me leaving my "normal" life behind to start my own journey towards my dreams. The
moniker, Fabulous Firebird is a tribute to my affinity for the world's most affordable muscle car, the Pontiac Firebird. I don't like to use the word "gimmick" to describe who I am in the ring because "gimmick" limits you to a one dimensional character. I feel that my character is uniquely versatile and allows me to be more than just an angry female…it allows me to fit and adapt to each situation, each match in a way that you might not expect.
Louis Velazquez: Was that the first Moniker that you used or were there others?
Beth Phoenix: I've been Phoenix since the beginning.
Louis Velazquez: Consistency, that's the only thing that allows you to gain a following. What promotions did you work for and who are you affiliated with currently?
Beth Phoenix: I'm affiliated with many promotions, however, I have put a focus lately on WXW, run by Afa the Wild Samoan because I believe that they put out a great product. In addition, they have a tremendous ladies roster. I haven't found another promotion yet with that many solid lady wrestlers.
Louis Velazquez: Well Afa has been around for a long time so if anyone knows this business it's him, so what else do you do beyond wrestling?, what are your hobbies?