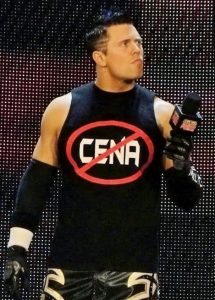 /UCW/ This is an interview conducted by Louis Velazquez with Mike "The Miz" Mizanin in 2004.
This month on the cover of UCW's Pro Wrestling Online magazine is probably one of the next WWE stars to enter the ring, Michael Mizanin, better known as "THE MIZ", he is one of the star attractions of the Ultimate Pro Wrestling Promotion run by the legendary Rick Bassman and has gone from the Wrestling World to the Real World and his future is looking brighter and brighter.
Louis Velazquez: Miz, thanks for taking time out of your obviously busy schedule to participate in this Q&A session with us.
MIZ: Not a problem, anything to support what you're doing.
Louis Velazquez: Thank you Miz that's always good to hear, so let me ask you something, what got you interested in Pro Wrestling?
MIZ: Ever since I was a little kid I've loved to watch wrestling but never thought I was big enough to do it. I tried out for a show called The Real World. Trying out and making it onto this show was a dream for me as corny as it may sound. I remember in 7th grade sitting there watching The Real World San Francisco and saying to myself that some day I 'm going to be on this show. 8 years later I followed that dream to become part of the cast of The Real World 10. While taping I felt that nobody really liked me and wouldn't accept me for who I was. So I created The Miz, my alter ego, and started telling people off. The cast started liking The Miz better than they liked Mike so did the fans. That ended and I went back to Parma not really knowing what I wanted to do with my life. I knew I had to get out of Parma. I started paging through my high school year book and that brought back memories of my friends coming over to my house every Sunday to watch wrestling. Remember back in those days there were usually a paper view every Sunday between WWE, WCW, and ECW. I realized that day that I wanted to become a professional wrestler. I moved to Los Angeles and started attending UPW's Ultimate University ever since then I've been addicted. The Real World made me realize I can achieve my dreams if I try hard enough so that's what I'm doing.
Louis Velazquez: Miz, I have to say that you are one intense person and you have a lot of drive, that is what makes you different from most, this is just what I see, those are the qualities needed for success. So when you finally got to step into the Ring how did you feel?
MIZ: I was nervous as hell. I didn't know what to think. I saw all these guys taking bumps and I had no idea what to do. I never wrestled in high school so even chain wrestling was new to me.
Louis Velazquez: I can understand that totally, Well one major benefit of being guided by Rick Bassman is that you are taught the the ropes beyond taking bumps, who actually came up with your gimmick?
MIZ: I came up with The Miz on the Real World. Everybody would pick on me in the house nitpicking mostly and I
never liked to hurt people's feelings. Until one day I went off and had no idea what I said because I was in the zone but from then on I gained respect from everyone in the house.
Louis Velazquez: That was the first gimmick that you had if I'm not mistaken right?