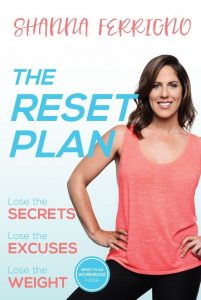 /UCW/ LOS ANGELES, CA – Shanna Ferrigno, founder of Ferrigno FIT, and daughter of Lou Ferrigno, two-time Mr. Universe, has announced the launch of her debut book :The Reset Plan: Lose the Secrets, Lose the Excuses, Lose the Weight.
Ferrigno's book focuses on common excuses that keep people from achieving their ultimate health goals, and offers specific advice on how to reverse bad habits. She provides detailed food and exercise plans, in addition to helping readers understand why they've adopted unhealthy tendencies.
Unlike other diet and fitness books, The Reset Plan does not promise extreme weight loss or promote a quick-fix. Readers are not expected to eliminate entire categories of food or embark on a restrictive, unrealistic regimen. Instead, Ferrigno explains why those diets don't work in reality, and empowers people with the tools to make effective permanent lifestyle changes.
With the over saturation of weight loss books and the increasing numbers of overweight Americans, Ferrigno brings a completely fresh approach to the industry. By sharing her personal weight loss journey and utilizing her experience as a trainer and motivational speaker, she examines the psychology of shame and food addiction that currently plagues our country.
Ferrigno's get-real approach to empowering her clients is apparent in The Reset Plan, where she combines the supportive, enthusiastic voice of a coach with that of someone who does not accept excuses or let readers be dishonest with themselves.
"You have to take a realistic, practical approach to weight loss. This isn't a gimmick, or a short-lived trend," says Ferrigno. "It's about a safe, sane, holistic plan to lose weight and keep it off. To me, FIT stands for Focus, Invest, and Take Action. The Reset Plan shows you how to use all three tools to make dramatic improvements to your health. Focus on what you want out of life. Invest in yourself. Take Action to transform into your true potential."
The Reset Plan includes:
• A 66-day plan to get readers in their best shape
• Tips and tricks to help readers find and sustain their motivation
• Personal anecdotes and success stories from both Ferrigno and her clients
• An extensive workbook that includes charts, worksheets, and recipes designed to guide people through their weight loss journey
The Reset Plan is available now now wherever books are sold and at http://www.theresetplanbook.com/
About Shanna Ferrigno
Passionate about health and fitness, Shanna Ferrigno is a National Motivational Speaker, Nationally Certified Personal Trainer, and Founder/ CEO of Ferrigno FIT. Her Reset Plan is a sensible, effective, comprehensive program based on educating clients, helping to correct bad habits, and motivate a change towards healthier living. While sharing her own personal weight loss journey, Ferrigno is candid and sincere as she delves into the psychology behind food addiction and inspires success through practical lifestyle changes.
Social Media:
https://www.facebook.com/FerrignoFIT/
http://youtube.com/ferrignofit
http://www.instagram.com/shannaferrigno
Media Contact:
[email protected]
https://www.instagram.com/p/BamguELgKIh/?taken-by=shannaferrigno
Did you see the new #ThorRagnarok trailer yet? Spoiler alert, #StanLee saves the day! #Marvel #Hulk @LouFerrigno https://t.co/lv9VhONs7x pic.twitter.com/BanZ66QYUP

— The Stan Lee Box (@stanleebox) April 10, 2017
The Reset Plan book is out! So proud of how many people's lives its helping already! https://t.co/YY1hmwAvjB @LouFerrigno @FerrignoFIT pic.twitter.com/fCcPsMXhfD

— Shanna Ferrigno (@ShannaFerrigno) April 19, 2017