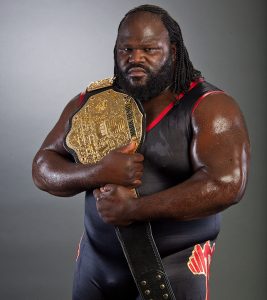 /UCW/ ATLANTIC CITY, NJ, BROOKLYN, NY – At the upcoming 2018 annual Action Martial Arts Hall of Honors at the Tropicana Hotel & Casino in Atlantic City, NJ, WWE Superstar aka The Worlds Strongest Man Mark Henry is scheduled to be in attendance.
All announced guests are subject to change so please go to www.actionmagstore.com for updates.
About Mark Henry
Imagine every bone in your body being crushed into sawdust while you struggle to take a breath. Either you're about to become python food, or you're on the business end of Mark Henry's World's Strongest Slam.
Henry burst onto the scene at the 1992 Summer Olympics in Barcelona, where he competed in weightlifting in the super-heavyweight division. Three years later at the Pan American Games, Henry captured a gold, silver and bronze medal. Henry's intimidating size and weightlifting prowess earned the attention of WWE, which signed him in 1996.
He stands as the first developmental talent for WWE and has been under contract for 21 years. From there, the new Superstar joined the infamous Nation of Domination, where he established himself as a ruthless and powerful big man — traits he channeled to earn first prize in the 2002 "World's Strongest Man" competition at the Arnold Schwarzenegger Classic. Hence the moniker he carries today, 20 years after debuting in WWE, where Mark Henry stands at a terrifying peak. In addition, he also holds the incredible distinction of having been a World's Champion in three sports: Powerlifting, Strongman and Wrestling.
Injuries can't stop him, and neither can Superstars such as Shawn Michaels, The Undertaker, Kane and Big Show — all of whom have been scraped from his boots at some point in his career. Destruction isn't personal for him; that's just what he does.
With a wealth of experience, the steady concentration of an ER surgeon and the temper of Bruce Banner, the scariest thing about Mark Henry isn't the fact he's The World's Strongest Man — it's the fact that he knows exactly how to use his unparalleled strength
About the Action Martial Arts Hall of Honors
In January, 2018 the world's largest group of martial arts super stars, film & combat celebrities, and renowned masters from around the world will once again gather, to meet, greet and share with the thousands who congregate from around the globe in Atlantic City for what is colloquially referred to as "The Academy Awards of Martial Arts. " With over 1,200 in attendance at the banquet alone, this combined event is listed as both the largest single banquet gala in Atlantic City, and the world's largest assembly of celebrities, champions, suppliers and movers and shakers in martial arts.
Action Martial Arts Hall of Honor Banquet
The event is filled with three days of seminars, training in the martial arts, vendors, and martial arts business seminars for school owners, and certification from some of the most amazing teachers and THE BEST-Of-The-BEST – all free to the public and dinner guests alike. Plus, there are over 100 vendor booths with supplies, autograph signing, health related products and, more!
This years event will be held on January 26, 27 and 28th of 2018.
Contact:
718-856-8070
[email protected]
www.actionmagstore.com