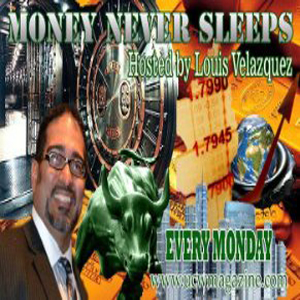 /UCW/ This week on Money Never Sleeps Radio with Louis Velazquez we touch on everything from Immigration to Cryptocurrency, Gun Control, Blockchain and Amazon. We give give a little tutorial on Pecu Novus, the asset backed digital asset that Louis Velazquez see's as being part of the next wave of digital assets that are here to stay.
Lets start with Immigration and the big debate revolving around it. I know that this has become a political debate and the narrative is clouded by it. America was built on the backs of immigrants, it has always been the land of opportunity, where a man or woman can come upon these great shores with wide eyes and dreams of living that American Dream. A couple of things that I see as clouded, first I really don't think that the change in immigration law is to keep legal immigration from happening, it's the opposite, its preventing from illegal immigration from happening. Basically its allowing anyone to come to this country and add value to it, its very important in the growth of America as a whole. This holds true in the manufacturing industry, technology, agriculture, construction and so much more, we want the brightest and the best right here in America.
With that said there also has to be a vetting process to keep those that may have other ideas of their own American Dream, bringing violence and other criminal activity to the table. This is what I believe is suppose to be done and really those that are here now shouldn't be sent out of the country but they should just have he opportunity to live that American Dream, get them in the system and give them a chance to become what America stands for.
I think its important otherwise we begin to isolate America from the world and that is something we don't want to do but also we don't want to be the receptacle for whatever comes ashore, it needs to be organized and the vetting process must be in place for the safety of the country.
During the show Louis Velazquez gives his views on Gun Control, Amazon and its growth, Cryptocurrency, Bitcoin, Ethereum, Ripple, Blockchain scams, RIOT Blockchain, a biotech company one day and a blockchain company the next, a brief overview of the digital asset Pecu Novus showing how the network works.
Enjoy the long weekend and Happy Presidents Day, God Bless America.
Twitter: www.twitter.com/louisvelazquez
Facebook: www.facebook.com/officiallouisvelazquez
About Louis Velazquez
Louis Velazquez, Managing Partner of Falcon Global Acquistions, has been in the investment banking/finance arena for over 25 years. He has managed over $2B in assets for clients internationally; initiated various funding efforts for private & public companies as well as commercial real estate projects. His background in technology goes back to 1985 from coding to the development of new technologies. He worked on various business development projects in the early days of the internet with a hands on approach, from developing the structure and advising on the technology to raising capital. He was instrumental in assisting in developing various applications that were used in the social media arena.
He has traveled globally for private clients in order to assist in the acquisition of unique precious stone collections, gold and other high end assets.
Some other life highlights include being a former pro wrestler and athlete, Radio/TV show host, Alumni of the Gemological Institute of America and News Journalist. He works with various charitable organizations focused on children, women or animal related causes lending his assistance and name in order to further their progress.