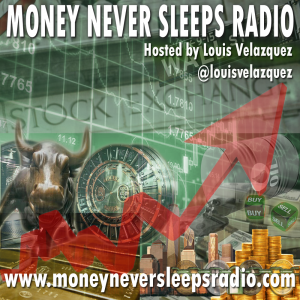 /UCW/ In this segment of Money Never Sleeps Radio , host Louis Velazquez touches on companies like Fitbit who disappointed investors with not only negative sales numbers but a dismal outlook on their 2018 forecast.
Chimes in on Warren Buffet's comment "Ladies, Liquor and Leverage" , Buffets argument has to do with long term investing and not trading, lets clear that up on the show.
Excerpts from the show: You may not know this but you've heard of Goldman Sachs, JP Morgan, Credit Suisse and other major deal making banks but you probably didn't know that the legacy bank Rothschild is in the top 5 as far as European deal making banks are concerned. You've heard of the theory of the Illuminati, well the Rothschild family is dead center in that deal, if you truly believe in that. The bank was founded over 200 years ago and now there will be a changing of the guards as the 7th generation of Rothschilds takes the helm with a younger outlook on the world but with the same family tradition of making money. David de Rothschild is said to be stepping down while his son, who probably has been groomed from birth like his father before him etc, will take the helm, Alexander Rothschild has been waiting in the wings and now his time is at hand. He's been heavily involved in the private equity arm of the bank, making a bunch of investments in small US based companies. Maybe they are still looking for world domination or have they done that already? Well guess it depends on who you listen to but they are serious players in the finance game and I would say a more aggressive growth oriented outlook may be on tap so watch out!
Cannabis , you have a Canadian company trading on the NYSE called Cronos Group, they are not doing anything in the United States yet because as you should know its not legal on a federal level and actually not a all state or local levels as of yet. So just like with the CBOE and CME listing Bitcoin futures, the New York listing a weed company on the exchange is progressive. They will probably be in a killer position to gobble up cannabis assets in the USA if it gets a federal nod. But in the midst of this administration I doubt we will see that for another few years and if President Trump gets reelected then for a few years more, so I wouldn't hold my breath on that.
Even though the Fed Chair Jerome Powell is leaning towards another 3 rate hikes this year, don't let that spook you too much. We need a correction now and again; it creates buying opportunities with certain stocks that have value. There is a term called dollar cost averaging in mutual funds, you can do the same with stocks if it makes sense and you believe in the stock that much. Stocks drop, then you can buy on the dip and reduce your overall cost basis, that is smart investing as opposed to emotional investing.
WE have have been talking about blockchain technology and cryptocurrency on the show lately because its that important, hear what we have to say about Blockchain, Bitcoin, Pecu Novus, Intrinsic value of coins and much more.