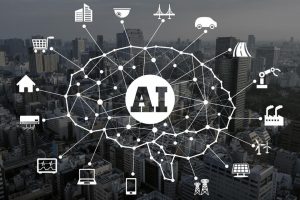 /UCW/ On today's Money Never Sleeps Radio show with Louis Velazquez, we touch on Artificial Intelligence, Cloud Computing, Cryptocurrency, Chipmakers, Africa and Ghana in general.
"Chips and cloud computing, if you wanted a longterm foothold into the future then you need to look at these sectors.  Chipmakers involved in the artificial intelligence space, smart technologies, those you need to keep an eye on, if they slip back they may provide a really good entry point, and these chips will power cloud computing companies and those cloud computing companies involved in artificial intelligence and robotics need to be on the radar.
Nvidia is providing the foundation, the backbone if you will, for artificial intelligence.
AI spans across all industries and there are companies that are leading the way :
On the research end you have the usual suspects such as Google's Deepmind, Facebook, Apple, Microsoft and IBM, they are building real world applications across all sectors, they are innovating and evolving this arena that will be a continual evolution for decades.
Some companies focused on specific sectors that are incorporating AI into their development include companies such as:
Bablyon, UK Based, Healthcare sector
Brain Corporation, US Based, Robotics
Algolia, US Based, Enterprise AI
CaseText, US Based, Legal Tech
Cambricon, China Based, Hardware for AI
Cerebras Systems, US Based, Hardware for AI
Megahoot, US Based, Cybersecurity
Cybereason, US Based, Cybersecurity
Drive AI, US Based, Auto Tech
Flatiron Health and Freenome, US Based, Healthcare
Numerai, US Based, Fintech
Shift Technology, France based, Cybersecurity
Twiggle, Israel based, Commerce
I want to talk about Africa for the rest of todays show, its one of if not the largest continent in the world with the most natural resources however the continent is segragated into so many different countries, of which the level of corruption is ridiculous, that its difficult for them to band together to benefit from their strengths. With that said the one country in Africa that will see the most growth and in my opinion be the New York City of Africa will be Ghana.
The reasons are as follows, they have a new and younger administration in place that are looking at things differently. They are seeking innovation, growth, job creation and becoming not only a tourist desitination for All of Africa but also to be the center of commerce. Where business is done with the latest technology in place, growing the Ghana Stock Exchange to benefit from the global trading that is ongoing, incorporation smart technologies into the main city of Accra and opening the doors for serious global business.
Ghana is my pick for the country that will shine bright in the emerging markets in the next few years, opportunities will come about and they will end the days of giving away their natural resources to China for pennies on the dollar, and that is whats been happening there and that will all come to a halt soon. The Cedi has been at record lows but again I see this all changing in the near future."
www.twitter.com/louisvelazquez
Listen to Money Never Sleeps on iTunes
https://itunes.apple.com/us/podcast/money-never-sleeps-radio-show/id996488452
Listen to Money Never Sleeps on Tune In, Google Play Music
Listen to Money Never Sleeps on Stitcher:
http://www.stitcher.com/podcast/the-ucw-radio-show/money-never-sleeps?refid=stpr
Listen to Money Never Sleeps on Player FM:
https://player.fm/series/money-never-sleeps-radio-show