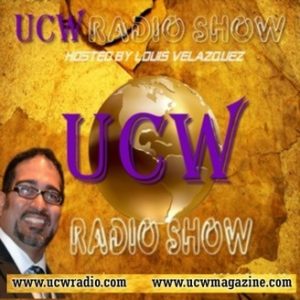 /UCW/ The UCW Radio Show features some of the most inspirational and motivational guests from the world of entertainment and business. This is the show that tells the stories that most media outlets neglect to touch on , the stories that can move a person, a nation or the world. Some guests have included the likes of Brett Hudson of the Hudson Brothers, Million Dollar Car Maker Alfred DiMora, reality stars Ashley & Cindy "Rodeo" Steedle of VH1's Rock of Love, Erika Landin of Big Brother fame, Wrestling legends Lanny Poffo, Kurt Angle, Mark Henry, Chuck Palumbo, Scotty Riggs, Erik Watts and The Stro, recording artist Kaya Jones, Ninaa Bergman, Tara London, Louie Bello, Alexx Calise and Amy Weber, acclaimed actors Phil Morris, Demond Wilson, Dexter Tucker, Hank Garrett, Martin Kove, Cary Tagawa, Dennis Christopher and Matthew Jaeger, Bodybuilding and UFC legends such as Eddie Robinson, Frank Shamrock, Rich Gaspari, Mark Alvisi, Royce Gracie, Bas Rutten, Ronnie Coleman and the list goes on.
In this segment of the UCW Radio Show we had the pleasure of having Tammy & Joe Szacon on the show, they are in the manufacturing business but that is not why we have them on the show. They took on the task of making a major investment into fitness center in Michigan that was about to close their doors for the last time. They are the new owners of MAC Athletic Club in Mt Clemens Michigan and the story of their journey with this gym is one about community, family and a lot of hard work.
Louis Velazquez, host of the UCW Radio Show, took some time to share their story with the world outside of the Mt Clemens Michigan community because its a story that needed to be told.
Note: Creative Image & Printing and their CEO Tina Lisecki have been retained as their marketing company to assist in getting the message out to the community about MAC Athletic Club and they are the reason that this interview was possible.
www.twitter.com/louisvelazquez
www.instagram/louisvelazquez
www.ucwmagazine.com
www.ucwradio.com
www.macomathleticclub.com
The UCW Radio Show on:
iTunes: https://itunes.apple.com/us/podcast/the-ucw-radio-show
Tune In: https://tunein.com/podcasts/Arts–Culture-Podcasts/The-UCW-Radio-Show-p1159324/
Stitcher: https://www.stitcher.com/podcast/the-ucw-radio-show