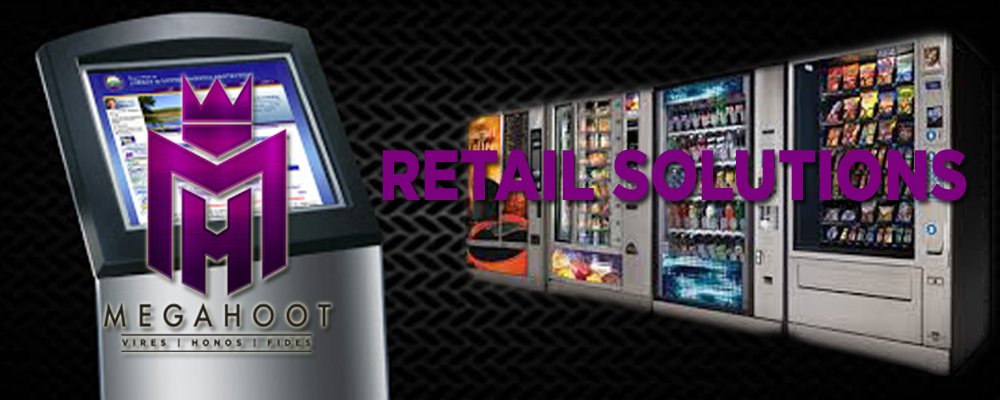 It was announced today that technology company Megahoot "MEGA" will be exploring the expansion of their retail technology solutions to include both high tech AI enabled touch screen kiosk technology as well as high tech dispensing kiosk e-commerce technology that would incorporate both proprietary AI and blockchain technology.
MEGA believes that there is a need to provide next generation retail technology solutions for tomorrow which would allow consumers to seamlessly research or purchase products from the comfort of their own homes or at a physical location. This can reduce the load on retailers as well as potentially boost their bottomline through increased e-commerce sales. Utilizing proprietary AI and blockchain technology as well as providing the highest level of security on the back end is key, making it scalable is essential as it will give any retailer the freedom to expand their online and physical business footprint via this platform.
The value to brick and mortar businesses such as health clubs, event venues (football, soccer or baseball stadiums) and other retail outlets is evident as the possibility of decreasing their overhead and increasing their e-commerce footprint beyond the cloud would translate to increasing their margins. This also has a positive impact on commercial real estate landlords that have found their strip malls, malls and other retail outlets thinning out over the years.
MEGA is in discussions with kiosks manufacturing companies that have the ability to provide the most durable, functional and secure touchscreen and dispensing kiosks which MEGA can integrate its proprietary technology into. No final decision has been made on the manufacturing partner as of this press release.
The programs that will be launched would include a zero cost to the retailer model as well as a customized model which would bring proprietary technology to a retailer. The company will be looking to launch a pilot program this year that may include national and regional health clubs and fitness centers as well as other retailers. The additional functionality will cross over to health monitoring accessible at a location or via a mobile application.
Megahoot and the Retail Industry
In the retail industry Megahoot has the ability to develop proprietary platforms that will allow a multinational, regional or local retailers to not only immutably keep track of their inventory and employees but also provide security options as well as seamless oversight of the entire business. For retailers with multiple locations, this can prove to be invaluable to make sure that quality is at its highest thus protecting the brand, employees adhere to the culture of the company and loss mitigation all from headquarters if required. Again in retail this is only the tip of iceberg of what Megahoot and our partners are able to do for a retailer.
Megahoot's Ecosystem
The Megahoot ecosystem consist of customized SaaS platforms for enterprise, digital platforms for small business and digital platforms for the general public. The Megahoot Enterprise Solutions business incorporates both secure on-demand cloudbased SaaS collaboration platforms and customized proprietary platforms to meet a clients needs. Standalone digital platforms include the Megahoot Vault, XMG Digital Asset Network, DocuMega and several others that are in development which cross over into eGaming, eCommerce and various AI.
Further updates will be made available as they develop.
For more information please go to www.megahoot.com and www.pecunovus.com
About Megahoot
Megahoot is an innovative and diverse technology company that is focused on Blockchain Technology, Smart Technologies, Internet of Things, Artificial Intelligence, Machine Learning and Cybersecurity. The company is building a global ecosystem that will incorporate dozens of eCommerce, eGaming, Blockchain based platforms, Collaboration platforms, Facial Recognition and Biometric Platforms as well as other disruptive innovations in the Artificial Intelligence and Machine Learning arena via its strategic partnerships. Stand alone digital paltforms include the Megahoot Vault which is a digital vault for highly secure holding of various cryptocurrencies, loyalty tokens and digital documents. DocuMega which is a highly secure eSignature platform that will soon incorporate digital document sharing, collaboration and more. Other platforms in development will service a number of industries from manufacturing, logistics, smart construction, health care, fintech and more utilizing proprietary cryptography enabled blockchain technology. For more information on Megahoot please go to www.megahoot.com.
This press release shall not constitute an offer to sell or the solicitation of an offer to buy any securities or coins, nor shall there be any sale of securities or coins in any state in which such offer, solicitation or sale would be unlawful, and qualification under the securities laws of any such state.
This press release contains forward-looking statements. The use of any of the words "anticipate", "believe", "expect", "plan", "intend", "can", "will", "should", and similar expressions are intended to identify forward-looking statements. The forward-looking statements contained herein are based on certain key expectations and assumptions made by the Company, including but not limited to expectations and assumptions concerning the receipt of required regulatory approval. Although the Company believes that the expectations and assumptions on which the forward-looking statements are based are reasonable, undue reliance should not be placed on the forward-looking statements because the Company can give no assurance that they will prove to be correct. The forward-looking statements contained in this press release are made as of the date hereof and the Company undertakes no obligation to update publicly or revise any forward-looking statements or information, whether as a result of new information, future events or otherwise, unless so required by applicable securities laws.
Contact:
Sarah Jasper
Media Relations
352-593-8248