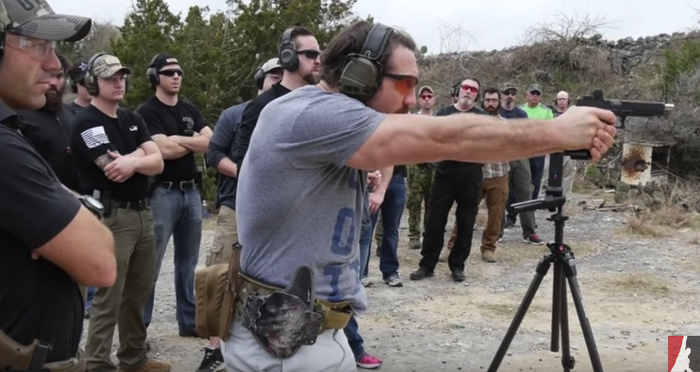 In today's world it's imperative that we learn how to defend ourselves, physically and mentally. Part of that training process includes a variety of things that some may or may not agree with, in the end its better to have the knowledge than not. I'm talking about learning how to use various weapons, some may be as simple as a stick or an object at your disposal to something more powerful as a handgun, rifle or automatic weapon.
Let's start with the mental, I am a great believer in education and mental preparedness, whether it's in the classroom or real life experiences. Being prepared mentally to tackle adversity, to achieve your goals and get yourself set for what will be in your path is key. If you cannot deal with things mentally then trust me all else will fall because it's your mindset that controls it all. In the words of the great industrialist and pioneer Henry Ford, "Whether you think you can or you think you can't, you're right", in short your mindset dictates what you will accomplish or you won't.
So the mindset is item number one, to condition your mind the way you want to in order to achieve what you want to achieve and defend yourself mentally. Item number two is the physical, preparing yourself physically for everything in life, the reality is this, if you feel good then it puts your mind in a good state and in that state you can push yourself a little harder because you know you can take it. Training with weights is a given but lets start adding functional training into the equation. Using resistance bands, stabilization work and other movements that will help you to strengthen your body and prepare for the daily battle of life. Martial arts, boxing and wrestling are excellent ways to add to your arsenal and get yourself not only physically fit but also physically able to defend yourself if need be. I'm not just talking about a fist fight, I'm talking about allowing your body to defend itself as well, against viruses, injuries and more, so being physically fit brings with it a number of benefits that lead to a full life, without your health in my opinion living a full life is much harder. So take care of your health through fitness and nutrition, add martial arts and some type of self defense into the mix and that confidence as well as skill set is something that you will carry with yourself for a life time.
Now the last item I want to touch on is, at the very least, learning the basics of utilizing a firearm. Yes I know that not everyone will agree with me on this but in the end its better to know how to use a firearm and not have to then to have to use a firearm and not know how to. I've come across various facilities that can show you how to use a firearm at a shooting range but lets go a step further because you can actually learn how to use a firearm and much more that will involve you mind and body while building solid relationships.
There are a few that top my list of great firearm training facilities that will not only give you a skill set but it will give you a base to build on. These facilities have some of the most experienced firearm specialist who are also great leaders at the helm who guide their students/members in more ways that you would imagine. I'll just be mentioning two as this will be an article that will continue over time so that we can spotlight some of the awesome talent that lead these great organizations.
First one is Sheepdog Response, this is run by former UFC fighter and actually he was one of the top fighters in the world at one point, Tim Kennedy. What puts his facility on top of the list is Kennedy's background, he is a U.S. Army Ranger qualified Special Forces Sniper who has multiple deployments under his belt serving the United States of America with pride. Due to his martial arts background, specifically in Brazilian Jiu-Jitsu, he has the unique ability to bring the physical training into the equation with his students. Some of his students are top law enforcement personnel, top fighters and athletes who look to the best for them to become better at what they do. Sheepdog offers in person training and now in the COVID-19 world they offer virtual training, which is very unique that not many can pull off in this arena but they have the formula that works. Even though Kennedy is on top of the heap he isn't alone as Sheepdog has some serious talent in their ranks which include Dennis Jones, not only is he a U.S. Army Special Operations Combative Instructor but he's also a black belt in Brazilian Jiu-Jitsu. His credentials would be too much to list, as would the other members of Sheepdog, so I'm making it pretty brief.
Next up is Travis Lloyd, he is a super U.S. Army Ranger, basically he's the guy who trains the Rangers, so bad ass doesn't begin to describe Lloyd, he served in multiple combat rotations that include Kosovo, Iraq and Afghanistan. Matt Smith is a U.S. Army Green Beret and a 20 year veteran of Special Operations, what makes Smith unique is that he is a master Diver and runs the Special Forces Underwater Operations School in Key West, Florida. Will Caito brings more to the plate for Sheepdog as he is a retired U.S. Army Counterintelligence Agent, he has multiple rotations under his belt that placed him not only in Afghanistan but at multiple locations worldwide, serving the U.S. Army in stellar fashion. I know that I will be leaving a few people out because they just have too much talent and I can't fit all of them in this article, so my apologies to them but for Sheepdog I want to close out with Combat U.S. Army Veteran Sarah Dunston, she is the epitome of bad ass, She served the U.S. Army for over 12 years and she brings a little different spin to the equation as she was a U.S. Army Criminal Investivation Command Special Agent, so take that with her tactical and intelligence background, well you have the making of a T.V. Series. For more information on Sheepdog Response please go to www.sheepdogresponse.com.
Second one is Menocal International Training, this organization offers its students/members not only the training that they are looking for but as I mentioned earlier, any firearm training facility needs to offer more, they offer more. That more is the camaraderie that you would normally only see in the field, on a deployment, in a foxhole, on a sports team, its that special bond that last a lifetime. This is a father and son team which comprise of a 30 year veteran of Law Enforcement in Jessie Menocal Sr. and active Law Enforcement Officer in Miami-Dade Florida, Jessie Menocal Jr. Jessie Sr. served as Chief of Police for over 10 years and has also lead a number of operations crossing over Federal, State and Local agencies, he has also organized S.W.A.T. Commanders meetings to tackle operations and training. His specialty is firearms, defensive tactics and Tactical S.W.A.T. Operations, he is a highly sought after professional in the public and private sector. Under his tutelage students learn everything from unarmed defense, basic self defense, gun safety and firearm familiarization. Jessie Jr. is an active Law Enforcement Officer and has been for over 12 years for Miami-Dade County in Florida, he is currently a Sergeant. His skill set includes being a S.W.A.T. operator and team leader, holds certifications with the NRA and FDLE as well as being an instructor at the Miami-Dade Police Academy where he readies the new recruits as well as seasoned professionals in all aspects of law enforcement. Like his father, he is highly sought after in the private and public sector as a leader, instructor and mentor. The training that they offer goes beyond just getting familiar with firearms but it also includes combative courses from Vehicle Combative, Tactical Pistol and Rifle, Sharp Shooter and Active Shooter/Threat Training courses. This is in my opinion the top training facility in Florida, so to find out more please go to www.menocalinternationaltraining.com.
Both of these organizations offer their own branded merchandise that crosses over from the typical hat and t-shirt to tactical gear and more. They cater to both men and women across the spectrum of training offered.
This article would not be complete if I didn't add a group that manufactures the highest end firearms out there today and they have been featured the world over. They have a training facility as well that has hosted some of Hollywood's elite as they were preparing for film roles, such as Keanue Reeves and the John Wick movies. Taran Tactical Innovations is owned by one of the top marksmen in the world, he's a sharp shooting world champion and is known as Hollywood's A-List Gun Trainer, his name is Taran Butler. Taran has trained movie producers, directors and actors including James Cameron, Michael Mann, Keanu Reeves, Shemar Moore, Michael B Jordan,  Jennifer Garner, Collin Farrell, Chris Hemsworth, and Josh Duhamel. Taran has worked on location or hosted movie training at his 20 acre range for many films including Public Enemies, Miami Vice, Transformers, The Kingdom, Avatar, and Savages. Taran is a reoccurring guest expert on History Channel's Top Shot. Taran's products are used by some of the top professional shooters in the world such as  Bob Vogel, Jesse Duff, Nils Jonasson, Keith Garcia, Randi Rogers, Jerry Miculek, Julie Golob, Katie Harris, Blake Miguez, Shane Cooley, Allie Barrett, Max Michel, KC Eusebio, Travis Tomasie, JJ Ricaza, Shannon Smith, Manny Bragg, Clint Upchurch, Chris Tilley, Mike Viogt, Maggie Reese, Todd Jarrett, Dave Pruitt, Phil Strader, Mike Seeklander, Ian Harrison, Dustin Ellermann, Chris Cheng, , Ron Avery, Bennie Cooley, Rob Romero, Jansen Jones, Kurt Miller, Michelle Viscusi, BJ Norris, Patrick Kelly, Chris Sechiatano, Daniel Horner, and the AMU Action Shooting Team. For more information please go to www.tarantacticalinnovations.com.
I will be writing additional articles that will profile some of these individuals as well as bringing them on the UCW Radio Show soon, so that we can get a closer look at the people who motivate so many.
Louis Velazquez