Former World Kickboxing Champion Jeff "The DC Bomber" Smith on the AMA Power Hour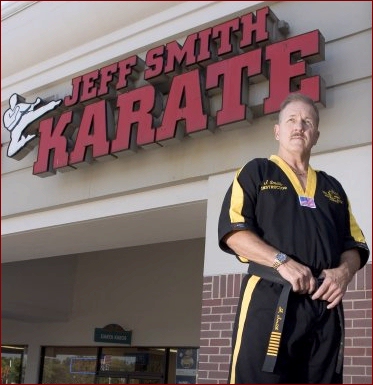 Former World Kickboxing Champion Jeff W. Smith joins martial arts leader Alan Goldberg on the Action Martial Arts Power Hour for an in-depth hour long chat about his background and current issues plaguing the modern martial arts schools.
Learn more about one of the true pioneers in American Martial Arts Jeff W. Smith.
Jeff "The DC Bomber" Smith was a World Kickboxing Champion and the first recipient of the Bruce Lee Award for "fighter of the year." (Selected by Mrs. Bruce Lee and Karate Magazine) He was from Kingsville Texas where he started his training in Taekwondo at the Texas A & I University TKD club in 1965. He got his Black Belt September of 1969. Jhoon Rhee would come every 3 months to Texas and teach and test at several college clubs that he had started while at the University.
After Smith got his Black Belt, Rhee invited him to come to Washington D.C. to teach in his schools and train. Smith's tournament background reads like the other "Red, White & Blue" Superstars in the famous photo with wins such as:
1972, Grand-Champion of the Pan American Championships in Baltimore.
1972, North American Championships in Toronto/Canada, wins the heavyweights title.
1973, Battle of Atlanta defeats Frank Hargrove, John Natividad and Everett Monsterman Eddy in the semi-finals but loses in the finals against Howard Jackson.
May, 1973, he defeats Bill Wallace 5-1, Fred Wren 5-1, Darnell Garcia 5-1 and Howard Jackson 6-5 at the US Pro/Am (US Open Championships), in Ocean-City.
1973, Karate Team Championships, the Texas team is composed of Kurban, Butin, Gotcher, Watson and Havanas, and is coached by Allen and Pat Steen Burleston. The Washington DC team, coached by Jhoon Rhee is composed of Gordon Franks, Wayne Booth, Wayne Van Buren, Pat Worlen and Jeff Smith. Smith won his match against Havanas 3-0 and the team of Washington beat Texas 6-4.
1973, Top Ten Nationals he defeats John Natividad, and after James Butin for the heavyweights finals, 4-3.
1973, US Open Professional, Ocean City he defeats Howard Jackson 7-6, in the finals.
1973, wins the title of Grand Champion at the first "Professional Karate Tournament", for the West Coast team.
On May 17th 1974, in Berlin, the first European Championship Professional Karate tournament is held. At the end of the day, fights take place between the Europeans and the Americans. Smith defeated Harald Schrader, 5-0, second in the European middleweights.
A few days later, he defeats Peter Kredijt, a Kyokushinkai practitioner, in a match between the USA and the Netherlands, in Amsterdam.
1974, he defeated Darnell Garcia, in the Ed Parker's Internationals Karate Championships, in Long Beach, CA, USA.
1974, he defeated Fred Wren for the middleweight crown, at the Karate Olympics in Houston.
On September 14th, 1974 in Los Angeles, California, USA, the Full Contact World Championships are organized by the new federation, the PKA (Professional Karate Association). Traditional karatekas from the USA and European fighters, are sorted in an unknown manner. Jeff Smith, like all other participants, have no experience of fighting with KO, with the exception of Joe Lewis and Wally Slocki (which have already met in a match with contact).
During the first battle, Jeff Smith defeated Budimir Vejnovic of Yugoslavia, a resident of Berlin, in the 1st round, with a right hand followed by a kick. Next Smith beats Wally Slocki of Canada, on points. Smith wins the first round and Slocki the second. Finally, Smith wins the third round, as a point is deducted against Slocki, following the instructions given by the referee. That evening, Jeff Smith becomes World Champion of the Middleweights for the PKA. Joe Lewis and Bill Wallace also become Champions of the World, in their respective categories.
On October 1st, 1975 at the 3rd fight between Pro Boxers Muhammad Ali and Joe Frazier in Manila, Philippines, Jeff Smith defends his title on points, in 11 rounds, against Karriem Allah of USA, (aka Karriem Abdallah). This event is widely broadcast on television and seen by over fifty million viewers as a preview before the Ali vs Frazier World Boxing Title Fight, known as the "Thrilla in Manila." Smith wins by a split decision. Allah won the first rounds and Smith taking the later rounds.
In 1979 Dan Macaruso defeated Smith for the title by split decision after 12 rounds. Word has it that Macaruso would never give Smith a rematch. Macaruso went on to defeat Dominique Valera by KO in round 6, Dale Michaud by KO in round 1 and Carl Beamon. From 1982 to 1985, Macaruso fought Pro Boxing and amassed a record of 9-3 with 5 wins by KO.
Smith defended his title of World Champion 7 times and when he retired from the sport he amassed a full contact kickboxing record of 21-1 with 7 wins coming by KO. He currently operates a martial arts school in Virginia where he teaches Tae Kwon Do, in which he holds a 9th degree black belt. On April 6, 2007 he was inducted into the Official Taekwondo Hall of Fame.
https://www.jeffsmithkarate.com/
https://www.ucwradio.com/powerhour
https://www.facebook.com/jeffsmithmilehighkarate/
http://instagram.com/jeffsmithkarate