AOF Megafest 2021 Opening Doors for Young Filmmakers to Showcase and Shine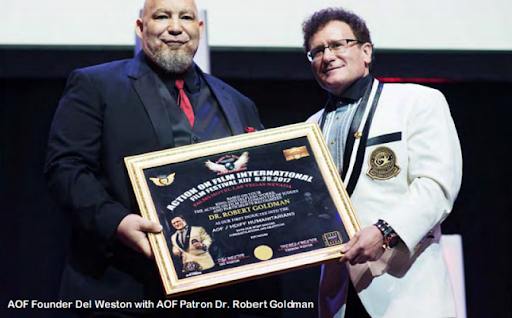 The pandemic of 2020 left a number of small businesses and industries devastated, it has impacted the entertainment industry in a big way as well. With the overwhelming adversity in front of the film industry so many passionate people never lost sight of their dreams, hopes and goals. Independent Film making has been the cornerstone of the next generation of actors and future icons in the world of Hollywood, action films has long drawn out massive crowds but seem to never get the recognition deserved.
Film Festivals like the AOF Megafest have opened doors for young filmmakers to showcase their great work and get recognition for it.
With America opening up again, the highlight of Las Vegas is back again, the AOF Megafest dates are set for July 26-August 1, 2021 in Las Vegas.
I urge any young action filmmakers looking for that opportunity to showcase their work to a large audience to contact the founders of the AOF Megafest for more information at www.actiononfilmfest.com
– Louis Velazquez
About the AOF Megafest
 The Action On Film International Film Festival originally began in March of 2005 with a three-month lead time to produce a show as an addendum to the long-running Ed Parker Long Beach Internationals.  By that time, Mr. Parker had already past and the tournament had fallen on hard times.  Gm Frank R. Trejo jr asked me if I could create something to add to the show to bring it back to its former glory.  I came up with The Action On Film Festival.
​After three years in Long Beach, we decided to separate from the martial arts show and we moved to Pasadena Ca where we spent 6 seasons honing and building our show.  In 2012 we moved to the beautifully Krikorian Theaters in Monrovia CA where we continued to grow the show and to represent literally tens of thousands of writers, producers, directors, performers, and other creative forces from every aspect of the film industry.
​In 2017 we moved the show to Las Vegas NV in order to cast the show -which had no become a World Class Event- into its final permutation as the AOF Megafest.  This show would incorporate other amazing film festivals and events into one massive show where filmmakers and writers could showcase their work in top-of-the-line theaters in the most exciting city in the world.
As we approach two decades in independent, privately run, non-government backed operations we can only thank the people who helped us achieve this incredible feat.
The AOF has featured stars such as Talia Shire, Mark Ruffalo, Ron Perlman, Eric Bana, Deborah Kara Unger, Bill Duke, Glynn Turman, Michael Madsen and so many others have come out to support over the years.  We've also launched a number of successful television programs including The AOF Channel and Del Weston's Action On Film as well as the AOF Megafest Magazine.
​
About their People
Del Weston
 The Action On Film Festival and Writers Celebration was created after its founder, Del Weston had a number of horrible experiences at film festivals and events that claimed to support the filmmaker but were little more than opportunities for filmmakers and writers to be exploited.  When the opportunity arose in 2005 to create the show, Weston did not hesitate and basically, the rest is history. The festival has created careers, sold tons of films, produced hundreds of shorts and films as well as episodic television series,podcasts and more in an attempt to serve our greatest resources, filmmakers and writers.
​Weston is a writer, producer, line producer, director and artist. He is the executive director and creator of the hugely successful Action On Film International Film Festivals and the AOF Megafest which has been running continuously for the last seventeen years. He has produced, written, and directed shows for SPIKE TV – Reality Racing The Rookie Challenge, NBC Los Angeles – The AOF Channel, ESPN II – Feelin' Good and is best known for his feature films, Split, Sunny and RayRay, The Victims and Trick. Weston has had roles in films with Sylvester Stallone – Rocky V, Jet Li – The Master, and done stunts and fight choreography for films like Rocky V, Asylum, Trick, Reality Racing the Rookie Challenge, and many more.
Weston served as the director of photography, co-writer, and editor and post-production supervisor on the Wrangler Award-Winning Film Behind The Gate which starred Academy Award Winner Joe Pesci, Oscar De La Hoya, Gary Stevens, and Bobby Flay. For the AOF Channel Television Series, Weston directed greats such as Kim Coates – Son's of Anarchy, Michael Strahan – Good Morning America, Tony Gonzalez – NFL Hall of Famer, Chuck Liddel – UFC Champion, and tons of other great talents. He has worked with other great stars including David Carridine, Talia Shire, Bo Svenson, John Savage, and Michael Pare.
In 2013, Weston launched Del Weston's Action On Film Television Series which aired across the United States and Europe and featured indie filmmakers, writers, directors, and performers. With over 600 produced episodes, the program has been seen by millions of viewers worldwide. Del has worked in all phases of production including line producer, on multi-million dollar projects as well as micro-budget films. He believes that the major difference between a good project and a great project is a sensitive touch between the Above the Line, Below the Line Costs as well as an intimate knowledge of Union Agreements, Contracts, Payroll, Scheduling, and an understanding of how NOT to go over budget. Benefits such as Section 181, Tax Credits, and incentives, Insurance, etc., must be taken into account before the cameras roll. And, finally, the project must be made with an eye on sales and distribution at every level.
Currently, Del is working on a slate of independent films which began in 2016 and features a series of ten films which include, The Victims, Trick, Ole King Cole, Clutch, The Jimmy Mulidore Story, Abi's Hands, DIE, and a few others which will be produced in 2021. He continues to work with writers and directors to bring their visions to life as a consulting producer for a number of projects that are in post-production.
Dr. Robert Goldman
Dr. Robert Goldman was appointed to serve as a member of the President's Council on Sports, Fitness & Nutrition. Dr. Goldman is a 7th degree black belt in Shotokan Karate and 7th degree black belt in Tang Soo Do.  He is also a Chinese weapons expert, a world champion athlete with over 20 world strength records, and has been listed in the Guinness Book of World Records. Some of his past performance records include 13,500 consecutive straight leg sit-ups and 321 consecutive handstand pushups.
Dr. Goldman was an All-College athlete in four sports, a three time winner of the John F. Kennedy Physical Fitness Award, was voted Athlete of the Year, and was the recipient of the Champions Award.  He was inducted into the World Hall of Fame of Physical Fitness, as well as inducted into numerous Martial Arts Halls of Fame in North America, Europe, South America and Asia.
Goldman founded the International Sports Hall of Fame, recognizing the world's greatest sports legends.  The International Sports Hall of Fame holds ceremonies annually at the Arnold Schwarzenegger Sports Festival. Dr. Goldman was the 2018 recipient of the Lifetime Achievement Award presented by Arnold Schwarzenegger, former governor of California.
Dr. Goldman holds two physician and surgeon medical degrees and two medical doctorates.  He has served as a Senior Fellow at the Lincoln Filene Center at Tufts University, and as an affiliate at the Philosophy of Education Research Center, Graduate School of Education, Harvard University. Goldman also holds Visiting Professorship status at numerous medical universities around the world.
Dr. Goldman co-founded and served as Chairman of the Board of Life Science Holdings, Inc., and Organ Inc., biomedical research and development companies which had over 150 medical patents under development in the areas of brain resuscitation, trauma and emergency medicine, organ transplant, and blood preservation technologies. These led to the formation of Organ Recovery Systems, Inc., and then Lifeline Scientific, Inc., a public company which became a world leader in organ preservation and transport. He has overseen cooperative research agreement development programs in conjunction with the American National Red Cross, NASA, the Department of Defense, and the FDA's Center for Devices and Radiological Health.
Dr. Goldman is the recipient of the Gold Medal for Science, the Grand Prize for Medicine, the Humanitarian Award, and the Business Development Award. Dr. Goldman has also been honored by Ministers of Sports and health officials of numerous nations. The President of the International Olympic Committee awarded Dr. Goldman the International Olympic Committee Tribute Diploma for contributions to the development of sport and Olympism. Dr. Goldman was also awarded the 2012 Lifetime Achievement Award in Medicine & Science and the 2017 Martial Arts Masters Cup.
Dr. Goldman has served as Chairman of the International Medical Commission for over 30 years, overseeing Sports Medicine Committees in over 194 nations.  He is Chairman of the International Federation of Bodybuilding and Fitness (IFBB) and National Physique Committee (NPC) Medical Commissions. Dr. Goldman also served as Chairman of the Amateur Athletic Union (AAU/USA) Sports Medicine Council, which oversaw several million amateur athletes. He is founder and international President Emeritus of the National Academy of Sports Medicine (NASM), the premier fitness certification organization, coined the term Certified Personal Trainer (CPT), and wrote the first certification exam ever done for that profession.
He has served as a Special Advisor to the President's Council on Physical Fitness & Sports and Board Member Emeritus for the U.S. Sports Academy as well as Chairman of their Board of Visitors. The U.S. Sports Academy is the number one sports academy worldwide. Dr. Goldman is also the Co-Founder and Chairman of the American Academy of Anti-Aging Medicine (A4M) with outreach to over 120 nations. A4M is the world's largest preventative medicine and medical conference/exposition organization that has trained over 100,000 medical specialists since 1992. Dr. Goldman co-developed the American Board of Anti-Aging & Regenerative Medicine (ABAARM) and American Board of Anti-Aging Health Practitioners (ABAAHP) Board Certifications, as well as the American College of Sports Medicine Professionals certificate exams and has overseen Post Doctoral Medical Education programs for the last 25 years. He is also Co-Founder and Chairman of the World Anti-Aging Academy of Medicine and a Co-Founder of the Tarsus Medical Group, which comprises a family of medical conferences and exposition divisions.
Dr. Goldman donates 80% of his time in charitable pursuits around the world, supporting sports, fitness and medical education for the sports and medical communities worldwide, visiting dozens of nations with a focus on youth mentorship.
Erin Miracle
Erin Miracle is a Dancer, Choreographer, Actress, Writer, Director and Producer. She was born in Tulsa, Oklahoma where she began her training at the June Runyon School of Ballet in dance and theater. At the age of 11 Erin's family moved to Germany where she starred in a production of Annie and received her first Best Actress nomination from The International Tournament of Plays.​
Erin was accepted with scholarship into the California Institute of the Arts Dance program. After two years of study at CalArts Erin transferred to the American Musical and Dramatic Academy in Hollywood to continue her education in singing, dancing, and acting. After graduating she moved to Chicago and began her professional career, acting in Chicago Children's Theater, as the Director of Dance at The Entertainment Project, training at the Joffrey Ballet and Hubbard Street Dance Theater, and as the Principal Dancer for the Anita Davis Dance Theater.
​Based on her writing samples and after extensive interviews Erin was accepted to the graduate program at the most academic Lutheran seminary in the country, LSTC Chicago. In seminary Erin was at the top of her class and hired by the writing department to tutor Ph.D. students in writing and in translating German theology. Later Erin moved back to Los Angeles. She has been a three-time international American Apparel Model featured on buses, billboards, magazines, stores and website. She was awarded Best Actress at the Downey Late Night Horror Film Festival for her lead role in the independent feature Dead Kansas directed by Aaron K. Carter.
Recently Erin began attending Colorado Film School for Writing and Producing. In her first semester Erin was the first to have two films nominated for Best Production 1 in the CFS Showcase. Her short films Thunder and Lightning and The Breakup were nominated for a total of 6 awards, winning for Best Production and continuing to win awards at festivals around the world. October 2020 Erin was cast in her dream role in the feature film Ole King Cole written by Del Weston, directed by Del Weston and Anabelle Munro. 2021 promises new heights for Erin's career culminating in her upcoming debut as the First Lady of the AOF.