UCW Radio Profile : Burlesque Performer Sizzle Dizzle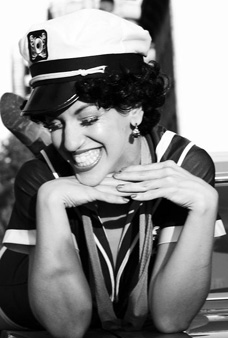 The UCW Radio Host Louis Velazquez had the opportunity to have burlesques dancer Sizzle Dizzle on the show many years ago and look forward to having her on again in the near future.
From Pennsylvania to New York to California now she is Brooklyn's own Sizzle Dizzle, a name that brings a big smile to the face of many every year, is an unapologetic and a self described goofball, but in her mind is she made you smile then she did her job.
Her forte is transporting the most zanny, sweet and sassy characters to life through dance, facial expressions and basic ass-make-age, her dearest wish is to make those watching hoot & holla!
Entertaining is in this energized lady's blood, having performed on both coasts of this great nation. Such venues include Public Assembly, Slipper Room, Niagara, Bar on A, Barrette, Union Hall, Identity, Rehab, Coney Island, Palace of Wonders, Hells' Kitchen Lounge, M Bar, Fat Baby, and Los Angeles's Sunset Striptacular, where she was crowned "Best Attack on the Audience!"
Bursting with extraordinary enthusiasm and the thrill of a good laugh, Sizzle Dizzle hopes you enjoy the show and reminds you the second most contagious action is a smile…(the first is a yawn). Whoo hoo!
Some of Sizzle Dizzle's accomplishments
OFF BROADWAY
Holiday Kisses – Burlesque Dancer – La Mama, E.T.C.
The Turner Project – Ensemble/Dance Captain – International Dance Festival
Out of Water – Featured Dancer – Mazer Theatre
THEATRE
Hotsy Totsy: Bastard Keith Returns – Evil Bad Terrorist Guy – HT Productions
Haunted – Dance Ensemble – NY Jazz Choreography Project
The Four – Featured Dancer – Prospect Theatre Company
They Walk Among Us – Corps de Ballet – Prospect Theatre Compny
Tableau – Dancer – Ciona Taylor Productions
West Side Story – Juanita/Dance Captain – Phillipsburg Theatre
https://www.audible.com/pd/The-UCW-Radio-Show-with-Louis-Velazquez-Podcast/B08JJNQ86Q?qid=1616668060&sr=1-1&ref=a_search_c3_lProduct_1_1&pf_rd_p=83218cca-c308-412f-bfcf-90198b687a2f&pf_rd_r=8FT6HKY1FVBY1JVHN6Z4