Self Custody Peer to Peer Digital Asset Swapping System HootDex to Open to the Public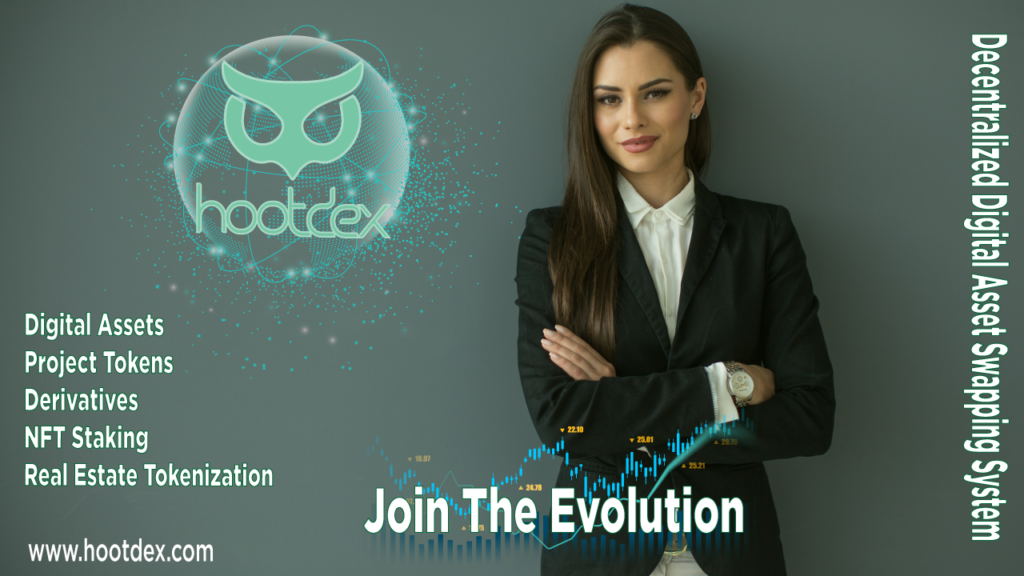 It was announced on May 12, 2023 that after over eight months of ground up development the decentralized digital asset swapping system HootDex will be available globally to the public on or about May 18, 2023.
HootDex is an internationally based self custody peer to peer digital asset swapping system that provides security, scalability, speed, cost effectiveness and opportunity. It is a system that was developed from the ground up as a layer-2 decentralized platform on the Pecu Novus Blockchain Network. HootDex was built for growth and as a layer-2 platform on the Pecu Novus Blockchain Network it allows for robust innovation to be brought to the forefront. Self custody is key, as members simply need to connect their digital wallet to the platform to participate and disconnect when they are done. Their digital assets are always in their possession and not held by any central authority such as a centralized cryptocurrency exchange.
The Pecu Novus Blockchain Network is a robust decentralized layer-1 blockchain network with over 1000 active validator nodes and growing globally. The nodes are what powers any blockchain network whether it is Bitcoin or Ethereum, it strengthens the network, increases security, scalability and transparency. More commonly referred to as miners as coined by the creator of Bitcoin, Satoshi Nakamoto in 2008, nodes are the backbone of decentralization. As more mining companies seek to onboard Pecu Novus nodes to supplement their revenue steam, especially as the Bitcoin Halving approaches on April 27, 2024 and Ethereum switching to a Proof of Stake system, it will increase the activity on the network. PECU is the digital asset for the network and is without a central issuer such as a Bitcoin and other layer-1 decentralized blockchain networks are, basically mining is how new coins are created on the network by validators.
This growth will bring forward more innovative projects being built on the Pecu Novus Blockchain Network and eventually being listed on HootDex.
There are currently close to one-hundred unique tokens listed on the platform that range from SynthCryptos, which are synthetic representations of widely held cryptocurrencies, Crypto Pair Derivatives, which is a unique token that derives its pricing from two or more assets (digital and other) and Project Tokens, which represent innovative projects being developed by some great innovators and founders globally.
The focus of some of the projects range from artificial intelligence, manufacturing tech, real estate tech, medical tech, beverage and spirits, material science, precious metal mining, composite building material, narrow artificial intelligence, Cybersecurity, film production and many other areas in the near future.
The next three phases of development include a full derivatives platform for digital assets that will allow members to gain exposure to various digital assets through digital asset options. NFT fractionalization through tokenization to unlock value and introduce liquidity to what could be an illiquid or expensive market. Lastly the integration of a digital asset payment portal that would increase utility, scalability and exposure of the entire HootDex system.
The beta mode of HootDex has solely consisted of institutional groups to insure that stability and functionality were at its optimum level. In time various stable coins should be introduced by issuers that would have cross-chain opportunities in order to create liquidity and increased utility for all tokens listed on HootDex.
To learn more about HootDex please go to www.hootdex.com.
About HootDex
HootDex is comprehensive decentralized digital asset swapping system that allows peer to peer swaps of various digital assets. The system was developed by MegaHoot Technologies, Inc, an innovative and diverse American software and technology company, and is internationally based. For more information go to www.hootdex.com
This press release shall not constitute an offer to sell or the solicitation of an offer to buy any securities or digital assets, nor shall there be any sale of securities or digital assets in any jurisdiction in which such offer, solicitation or sale would be unlawful, and qualification under the laws of any such jurisdiction. This press release contains forward-looking statements. The use of any of the words "anticipate", "believe", "expect", "plan", "intend", "can", "will", "should", and similar expressions are intended to identify forward-looking statements. The forward-looking statements contained herein are based on certain key expectations and assumptions made by the Company, including but not limited to expectations and assumptions concerning the receipt of required regulatory approval. Although the Company believes that the expectations and assumptions on which the forward-looking statements are based are reasonable, undue reliance should not be placed on the forward-looking statements because the Company can give no assurance that they will prove to be correct. The forward-looking statements contained in this press release are made as of the date hereof and the Company undertakes no obligation to update publicly or revise any forward-looking statements or information, whether as a result of new information, future events or otherwise, unless so required by applicable securities laws.