UCW Radio Show with Louis Velazquez and the Worlds Fittest One Arm Man Logan Aldridge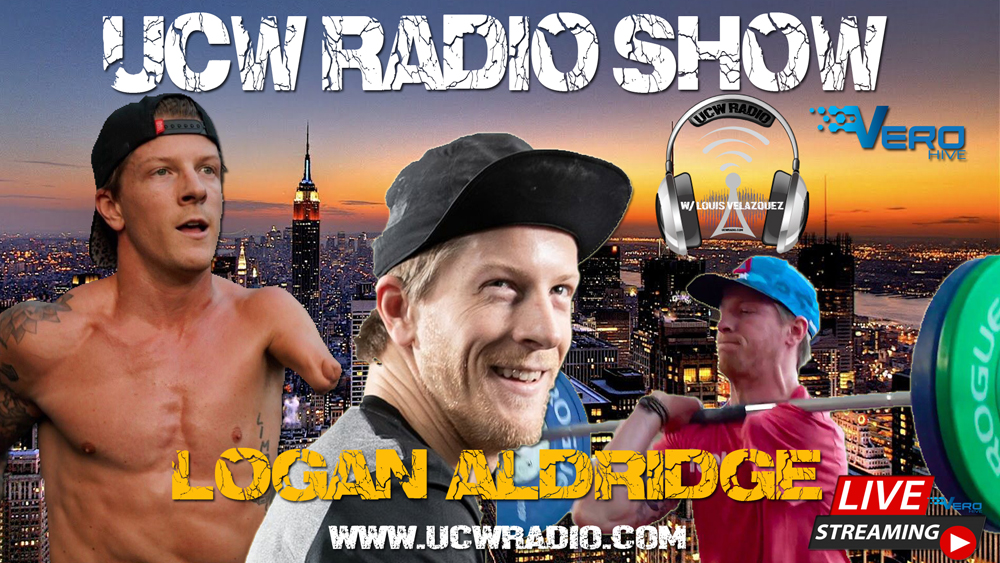 On this episode of the UCW Radio Show with Louis Velazquez we are talking with a truly inspirational person in the world fittest one arm man Logan Aldridge, we touch on his accident, his motivation, his company Adaptive Training (ATA) and so much more. Take a listen and be inspired!
All shows are done on the premiere video collaboration network VEROHive https://www.verohive.com , its FREE to join and be part of the evolution!
About Logan Aldridge
June 26, 2004 should have gone down as one of the worst days in history, at least for Logan Aldridge. On that summer evening, Logan was wakeboarding with his family near their vacation home on Lake Gaston in Virginia. In a terrible instant, the rope around his arm became entangled in the boat's propeller and cut through all his muscles right to the bone. Six hours, one ambulance, one helicopter, and two hospitals later, it was clear that there was no other choice – Logan's left arm had to be amputated.
A conversation between Logan and his mother, Lisa, set the attitude for his extraordinary recovery. He said, "Mom, what if I lose my arm?" She replied, "It's OK. It's only an arm."
The next day, seeing the reflection of his amputated arm in a window, Logan cried. That was the first and last time Logan grieved his loss. Somehow he knew that bigger and better things were waiting for him.
Logan's friends and family showered him with love and encouragement. He was left-handed, and had to learn how to write all over again. He also had to relearn simple things like tying shoes and buttoning pants – this time with just one hand.
But he quickly moved on from the basics to the sports he loves. One year later, as soon as Logan was able, he hit the water with a passion to do his very best.
Logan has not only overcome the challenge of losing a limb, but he is achieving at the highest levels. He was the youngest competitor and placed 2nd in wakeboarding at the 2006 O&P Extremity Games for amputees. He also plays on the varsity lacrosse team at his school, snowboards, and shoots under 100 on the golf course!
The day that should have ruined one life is, instead, transforming the lives of thousands. It began a journey of hope for Logan and for the countless people he has touched with his inspiring story.
https://www.instagram.com/aldridgelogan/
https://podcasts.apple.com/us/podcast/money-never-sleeps-radio-with-louis-velazquez/id996488452
https://www.audible.com/search?keywords=money+never+sleeps+radio&ref=a_hp_t1_header_search
https://www.audible.com/pd/The-UCW-Radio-Show-with-Louis-Velazquez-Podcast/B08JJNQ86Q?qid=1616668060&sr=1-1&ref=a_search_c3_lProduct_1_1&pf_rd_p=83218cca-c308-412f-bfcf-90198b687a2f&pf_rd_r=8FT6HKY1FVBY1JVHN6Z4